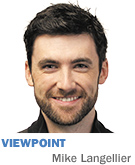 For several years, the national media and venture capital investment community have focused myopically on consumer Web and social Web companies like Facebook, Zynga, Groupon and others. In the first three quarters of 2012, venture capital firms invested significantly more money in software than any other industry, followed by biotech and industrial and energy (all of which have a core tech component).
These mass-user-adoption and advertising-driven companies got funded and were hyped by the press, but are not the kinds of companies we grow in Indiana.
However, things started to change in 2012. Facebook, Zynga and Groupon had IPOs and quickly plummeted in value as they were subjected to the open market and were forced to demonstrate strong, sustainable revenue potential. The media in turn began aiming a more critical eye toward these businesses and business models.
Additionally, the social Web video-chat company Airtime, owned by Sean Parker, Napster president and Facebook's first president, evaporated along with $33 million in funding.
Color, a photo-sharing mobile application, raised $41 million but didn't make it through the year. And social-discovery apps like Highlight sought to change the way we meet and interact with strangers, but mostly succeeded in creeping people out.
As a result of investors and consumers recognizing the challenges of these products and business models, focus and preference has shifted to enterprise and business software platforms, which offer recurring, dependable, subscription-based revenue.
This signals great opportunity for Indiana's technology sector, because enterprise and business software platforms are a Hoosier strength and specialty—especially in the rapidly growing marketing technology and health information technology micro sectors.
Companies like ExactTarget (and iGoDigital), Interactive Intelligence, Aprimo, Compendium, SmarterRemarketer, Delivra, RightOn Interactive, AddressTwo, ChaCha (and Social Reactor), CIK Enterprises, Marketpath and Tinderbox are just a few of nearly 100 Indiana software businesses that are now more appealing than ever to venture capitalists.
We would be foolish to dismiss consumer Web/social Web as fads. These powerful influencers significantly changed communications paradigms, marketing strategies and buying behaviors. They created substantial wealth, knowledge and job opportunities as well as enormous networks that digitally connected us in real time.
Unfortunately, because we were not well positioned on the front end of that innovation curve, we did not share significantly in that wealth, knowledge and job creation.
However, the next wave is here, where enterprise and business platforms leverage these networks to generate tangible value and revenue, and we are much better suited to ride that wave. As we enter into new-year business planning, a new Legislature, etc., let's be strategic and bold with long-term initiatives that create competitive advantages, regional notoriety, additional investment, a skilled work force, and additional software startup activity.
In the past decade, only five other metro areas produced more Inc. 500 high-growth companies per capita than Indy. Let's evangelize and build upon that.
Indiana has some of the country's finest universities, and they rank second in attracting out-of-state students, but then 80 percent leave after school. Let's connect those students with area businesses.
Tech companies are naturally high-growth and offer higher wages. Let's invest heavily in them.
Indiana is blessed with fiscal strength. Let's double down on innovations that will secure a dominant future.
Indy is an increasingly great place to start a business, start a career and start a family—virtues lacking in cities on the coasts. Let's boldly evangelize that to others who have moved or are living elsewhere.•
__________
Langellier is CEO of TechPoint and a former Orr Fellow who co-founded the software firm MyJibe, which was sold in 2011. Send comments on this column to ibjedit@ibj.com.
Please enable JavaScript to view this content.