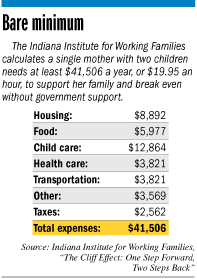 Week after week, parents tell the staff at Auntie Mame's Child Development Center that they lost their government assistance and can no longer afford child care.
The problem has led some parents to take the radical step of quitting jobs to regain eligibility, said Shalonda Murray, executive director for the not-for-profit at 3120 N. Emerson Ave.
Almost all the 162 children at Auntie Mame's use Child Care Development Fund vouchers to pay for their enrollments.
But income thresholds that cut funding once a family starts to earn more than 170 percent of the federal poverty level—about $39,000 before taxes and deductions for a family of four—have prodded many parents into poor career choices so they can continue to qualify for thousands of dollars a year in child care subsidies.
"I've had parents just walk off their jobs," Murray said. "I've had parents minimize the amount of overtime they work. I've had parents miss a couple days of work, take no paid sick days. I've heard all types of efforts parents do to try to stay on the program."
The Indiana Institute for Working Families, a research and advocacy group, describes the scenario as "the cliff effect," and the organization is determined to fix the problem. It's planning a years-long lobbying effort aimed at encouraging a sweeping overhaul of the welfare system.
Those involved in the effort say it's common for parents to get a new job with a meager pay raise that is just enough to push them out of the eligibility limits. Ultimately, the families have less money.
"I hate to say it, but the design right now is sort of creating the system of dependency. That's really what you're creating: 'Stay right here,'" said Derek Thomas, a policy analyst for the Indiana Institute for Working Families who wrote the October report "The Cliff Effect: One Step Forward, Two Steps Back."
"What you want to do is, you smooth out that cliff, so an increase in wages actually results in an increase in net resources. Otherwise, you're disincentivizing folks to take raises, to take risks with jobs, look for a better job that pays $10,000 more a year, just to climb the ladder."
Moms on the edge
Thomas' report targets three government subsidies, with the CCDF vouchers being most important. The others are the Supplemental Nutrition Assistance Program and Hoosier Healthwise insurance.
To illustrate how families fall off the cliff, Thomas uses the case of a single mother who has a full-time job paying $10 an hour in Marion County.
SNAP helps her with groceries, Hoosier Healthwise provides her insurance, and CCDF sends one child to preschool while another attends elementary school. She also collects another $6,600 a year in federal and state tax credits.
After covering all her expenses, she ends the year with $4,700 in her bank account.
She then gets a promotion, boosting her pay to $11.50 an hour, which leaves her netting $6,000 at year-end.
Then she gets another wage bump, to $12 an hour, which boosts annual earnings from $20,800 to $24,960.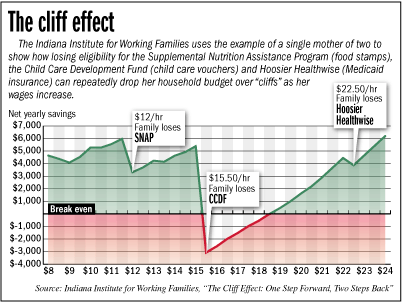 But because of the higher pay, she just lost her SNAP eligibility, and must pay 100 percent of her grocery bill. Her year-end savings are now more than $2,000 below where they were when she was earning $11.50 an hour—even $1,000 below where she was earning $10 an hour.
So she finds a new job that pays $15.50 per hour, boosting her earnings to $32,240 a year.
But now she no longer qualifies for CCDF vouchers that paid for her child's full-time preschool. The loss of that $8,454 subsidy means that, instead of being able to sock money away, her expenses are about $3,000 higher than her income.
To get back to where she was when she was earning $11.50 an hour and collecting SNAP and CCDF benefits, she would need to earn $24 an hour—about $10 an hour more than the per-capita average in the Indianapolis area.
"It's sort of a perpetual cycle," Thomas said. "You're climbing up a ladder and just keep falling down."
'The Cliff' lobby
Thomas acknowledges fixing the system will take time, in part because the issues involve different parts of the welfare system.
The CCDF, because of the magnitude when removed from household budgets, is the top priority.
The Indiana Institute for Working Families recommends boosting the vouchers' income limits to 250 percent of the federal poverty level from 170 percent. That would prevent Thomas' hypothetical single mother of two from falling into debt.
A better way to pull people off the program once they start earning more would be to phase benefits as their paychecks rise, rather than abruptly cutting them off at a certain point, he said.
The institute is working with other lobby groups on overlapping areas of interest.
Emily Weikert Bryant, executive director of statewide food bank association Feeding Indiana's Hungry, said her group is helping by speaking with legislators about SNAP and alerting them to issues raised in the institute's report.
"We're looking at a more holistic approach to make sure that all of these support services are sufficiently working together to get those who are able off of them," said Weikert Bryant, who is on the advisory board for the Indiana Institute for Working Families.
Legislation materializes
Legislators had began discussing some of the issues before the "Cliff Effect" report came out in the fall.

Behning
Rep. Bob Behning, a Republican from Indianapolis, filed two bills during the 2012 General Assembly intending to improve child care in the state.
The first bill would have created tax credits for families using and businesses providing child care. The higher the level of care, as set by the state's Paths to Quality ranking system, the larger the tax credits.
The second bill would have set up stricter health and safety rules for child care centers.
Neither bill made it out of committee. But lawmakers this session will discuss tighter regulation of centers that receive federal funding, such as CCDF vouchers.
The interim Committee on Child Care discussed the issue in 2012 after a 1-year-old boy drowned in a baptismal pool at an Indianapolis church's child care center earlier in the year.
Behning, who chairs the House's education committee—a likely destination for child care law discussions—said the state will need to address many of the quality issues before it can move on to changing eligibility for child care vouchers.
But the subsidies' thresholds need to change, he said.
"It doesn't make sense to me that we're trying to aid people on the lower end of income, but [the state] ends up forcing them off the program," he said.•
Please enable JavaScript to view this content.