New Clearwater Crossing venue Drake's straddles the increasingly blurry line between restaurant and bar, beckoning patrons with the promise of fun. "Come play," its tag line implores. Its ambitious menu, meanwhile, hints at more.
Drake's (3740 E. 82nd St., 436-7531) opened last month, the first Indiana outpost for Kentucky-based Bluegrass Hospitality Group. Billed as a hybrid restaurant-bar-dance club, it features an impressive array of craft beers—available in 60-, 90- and 120-ounce "table taps"—darts, shuffleboard, a DJ booth and dozens of flat-screen TVs.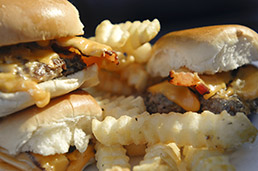 Mini cheeseburgers ($7.49, plus $1 for bacon) are among the more traditional options at Drake's. (IBJ Photo/ Perry Reichanadter)
Sounds like a bar, but there's nary a chicken wing in sight.
In addition to the expected nachos, burgers and salads, Drake's offers up some surprises. Among the attention-getters: a grilled cheese sandwich with shrimp, fried bologna served club-sammy style, and sushi. Yep, as in seaweed and rice and fish.
Drake's separate sushi menu is expansive, if heavy on sushi-for-the-masses options filled with cream cheese and smothered in sauce. We tried the Fantasy Roll ($8.95), which topped a tuna-and-avocado combo with shredded crab meat and spicy mayo, and the Soft Shell Crab Roll ($10.75), a fried concoction topped with a sweet teriyaki/chili sauce.
The Fantasy's spicy mayo provided a blast of flavor that, although tasty, overwhelmed the more subtle tuna and crab meat. The battered soft-shell crab, meanwhile, tasted like it came from a kitchen that also produces French fries and tater tots. With good reason.
Our Grilled Cheese & Shrimp sandwich ($8.99 with fries or tots) was more successful. Drake's doesn't skimp on the shrimp, adding welcome texture—and flavor—to a childhood favorite. Tomato and bacon also dress up the white bread and smoky cheddar. And I'm pretty sure I could eat my shoe if I had enough of the delicious remoulade sauce served on the side.
We couldn't resist the Fried B-O-L-O-G-N-A ($6.99 with fries or tots), a towering double-decker featuring thick-cut slices of the signature ingredient with lettuce, tomato, mayo and … Swiss cheese? Undoubtedly an effort to class up the otherwise-pedestrian sandwich, it nevertheless seemed like an odd choice. Call me old-fashioned, but I think bologna on white bread calls for good old processed American cheese food.
Despite its ambitions to be more, Drake's felt very much like a bar—not that there's anything wrong with that. The atmosphere was lively, the service friendly, the beer cold. That's enough for me.•

__________
Third in a month-long look at Clearwater-area restaurants.
Please enable JavaScript to view this content.