One might think the new CEO of Celadon Group, one of the nation's 20-largest truckload carriers, would be bullish about Celadon's prospects for growing through acquisitions.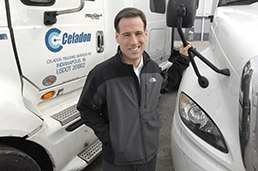 Celadon's president and COO, Paul Will, took over the reins of CEO last month from founder and Chairman Steve Russell. Will is keen on technology and work-force enhancements. (IBJ photo/Perry Reichanadter)
After all, Celadon snapped up no fewer than eight carriers in the last 18 months—two of them already in this first month of the new year.
But Celadon chief Paul A. Will doesn't sound like an executive bent on snapping up weak competitors: "We're not going to grow for growth's sake."
In fact, to the extent he reflects on acquisitions at all, he speaks about them in an almost cautionary way, saying the companies Celadon has bought often failed in part because they didn't fully implement "professional, analytical management."
Will counts among his top priorities continuing to increase productivity, not just through more sophisticated customer-relationship and tracking software, but also by improving the acumen of the company's nearly 4,000 employees.
Will and his lieutenants like to talk about how five people recently went through Six Sigma training for process improvement, a program originated 30 years ago at Motorola that is now used at a wide range of firms, from manufacturers to service providers.
Or they'll point to more employees entering graduate school, or how Celadon has been more actively recruiting those with degrees from Indiana University, Franklin College or Butler University. Purdue University-trained software engineers are also quite handy to have these days, they add.

And many newer hires come from outside the trucking industry. For example, Monte Horst, vice president of sales and marketing, used to work at big manufacturers, including Black & Decker. Others come from the world of banking, and are valued particularly for their skills in customer service.
If Celadon is going to squeeze the most from its assets and keep shareholders happy, "that human capital is what's going to get you there," said Will, 46, a 19-year veteran of the company.
Most recently, he was president and chief operating officer.
The growing demands on the fast-growing trucking firm's work force have left an unknown number of employees who were unable to adapt either reassigned or sent packing. One department had nearly a dozen people, but only one had college-level skills. Now everyone in that department has a college education, said Celadon founder and Chairman Steve Russell, 72, who groomed Will to succeed him last month as CEO.
"The reality is, the level of intelligence, the level of street sense, the level of drive has really been enhanced," Russell said.
Apparently, it's paying off.
Celadon has put together a string of profitable quarters during a particularly dark stretch for the trucking industry. In its 2012 fiscal year, Celadon earned a $25.5 million profit on revenue of $599 million.
Its stock trades at nearly $20 a share, compared with $13 a year ago.
"Our stock has outperformed every truckload carrier in America," Russell said.
Celadon has been outperforming its peers in part by improving operating margins, analyst Jeffrey Kauffman said in a recent report.
"We attribute the outperformance to the company's well-executed acquisition strategy and maintenance of a young truck fleet," Kauffman wrote.
The average age of its tractors is just 1.5 years, reducing its fuel and maintenance expenses.
As for Celadon's acquisition strategy, it generally entails buying assets of financially struggling carriers. It sells off the equipment but holds onto higher-quality customers and truck drivers.
Celadon now has about 1,700 customers, including Fortune 500 shippers such as Alcoa, General Electric, John Deere, Philip Morris, Procter & Gamble and Wal-Mart.
Celadon's push for a more capable, analytical work force is due in part to the need to better use its growing number of trucks. The company can now have 3,000 rigs on the road at a given moment.
It's not dissimilar from an airline's needing to max out seats on its planes, only Celadon is focused on such things as "loaded miles per tractor" and shorter turn times between loads.
But accommodating growth at its campus near 33rd Street and Post Road has proven challenging.
Two years ago, Celadon decided it needed another 47,000 square feet at its headquarters and added a two-story building with a solar farm on the roof.
"As we grew, it was hard to get even a meeting room," said Horst, the sales and marketing vice president.
The new facility provided desperately needed room for its local headquarters staff of more than 630 people, who dress in shirts and dark blue vests like you might find at a parochial school or among Sweden's submariner crews. The massive complex also provided space for driver orientation and training.
But even that space has proven inadequate. Earlier this month, Celadon said it wants to build a $5.25 million driver training center and add 182 workers by 2016.
The facility would include a new dormitory for drivers, along with basketball and racquetball courts. The city recently granted Celadon about $212,000 in property tax abatements. But Will said recently that Celadon won't proceed with the project unless the company also receives unspecified incentives from the state of Indiana. He said Celadon also has looked at building the facility in Dallas, although executives would prefer to build it here.
One ding in Celadon's performance of late is that its balance sheet remains highly leveraged, Stifel Nicolaus analyst John Larkin wrote, with the company's debt-to-capital ratio rising to 56 percent in the first quarter, up from 47 percent at the same time in 2012.
Some of that stems from costs for its fleet refurbishment, along with additional debt to finance the purchase of assets of other trucking firms, such as USA Dry Van Logistics and Robinson Transport.
Larkin said he expects some of the additional debt will shrink as Celadon sells assets from the acquired firms.
Celadon "continues to drive acquisitions that other truckers don't and has been able to do so at terms favorable for the company and investors," Sterne Agee's Kauffman wrote.
"As such, the company should be able to continue to outgrow the peer group in a slow-growth environment."•
Please enable JavaScript to view this content.