By most measures, local Web marketing firm SmallBox was chugging right along when CEO Jeb Banner had a crisis of confidence that stopped him in his tracks.
He was reading Robert Steven Kaplan's leadership book, "What to Ask the Person in the Mirror," and realized he didn't have a good answer for the first—and most basic—question: "What is your vision for this enterprise?"
SmallBox had been in business more than five years at that point, and it was turning a profit. But Banner didn't have a clue where it was headed, let alone how to get there. And that left employees in the dark, too.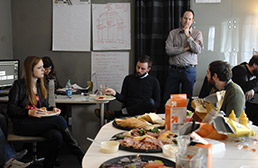 The SmallBox team meets over lunch on Mondays. (IBJ photo/Perry Reichanadter)
"We were not purposeful," Banner said. "We weren't a great company."
So in mid-2011, the SmallBox staff took a week off from client work to tackle internal projects like drafting a company manifesto. That exercise began a period of self-reflection that allowed the team to identify its "North Star," the purpose, mission and vision that keeps a company headed in the right direction.
Now the firm is coming off a record year and expects 2013 to be even better as it focuses on what Banner believes is the future of marketing: organizational health.
"The culture of an organization tells me how successful its marketing will be more than anything else," he said. "Unhealthy organizations have an unhealthy voice. That's hard to market."
Banner tested what he calls culture-powered marketing internally during 2012 and was pleased with the results. Having a clearly articulated vision—especially one developed in collaboration with the staff—gave employees a sense of ownership and empowered them to become brand ambassadors, talking up SmallBox's work on their own time.
"Our results have never been stronger, and we've never focused on them less," he said. "Organizations need to stop marketing to customers and start marketing to employees. Do you have workers or believers? A career or a calling?"
SmallBox applied to trademark the phrase "culture-powered marketing" last month and Banner plans to unveil a new look for the refocused firm on Feb. 1, at the end of its latest Factory Week retreat.
"We have reached a lot of clarity," said Banner, 41. "We really want to start a movement here. This is not all about us. We want to help other companies embrace marketing from the inside out."
He has some powerful examples to prove his point. Take digital marketing powerhouse ExactTarget, which credits its "orange" culture for helping to fuel the company's explosive growth.
The Indianapolis-based business uses the color as shorthand for the innovation, creativity and passion it looks for from its 1,500 employees, and it is reflected—literally—everywhere, from ExactTarget's logo to its office walls.
"Orange is the symbol of our people and our culture," said Chief Marketing Officer Tim Kopp, calling it the "X-factor" that sets ExactTarget apart. "It lives and breathes and permeates everything we do."
That's not an accident. CEO Scott Dorsey sends a note to the entire staff every Friday, for example, and employees attend town-hall-type meetings around the world.
The company gets thousands of applications every month, putting candidates through a rigorous hiring process. Applicants' abilities are a factor, of course, but Kopp said cultural considerations are equally important. Every new hire goes through a week-long training session dubbed "Officially Orange," he said, and the result is a staff that feels connected to the company.
"You really can't fake it," Kopp said. "Every world-class brand comes down to its people. … Every interaction is a marketing opportunity."
Slingshot SEO co-founder Kevin Bailey is another believer. He and Banner are friends, and SmallBox helped the Indianapolis tech firm identify its purpose—to "fix marketing"—as it shifts strategy after seven years of focusing on search-engine optimization.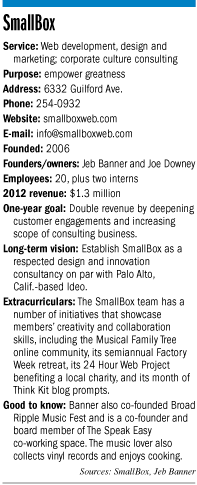 The two-word mantra "is a litmus test for everything we do," Bailey said, and a crucial consideration when it comes to getting staff, clients and prospects on the same page.
"If our purpose doesn't matter to you, maybe we're not the right fit for you," he said. "This stuff is much more holistic than just marketing. It's good for the organization at a root level."
Corporate coach David "Doc" Vik makes just that point in his book, "The Culture Secret," set to be released Feb. 5. The tome is billed as the playbook Vik used during his five years as a consultant at online shoe retailer Zappos.com, which strives to "deliver happiness" to its staff and customers alike.
"If the employees aren't happy, how can they create and deliver happiness?" Vik wrote in an e-mail to IBJ. "Start the culture and experiences with the employees, and they will create and deliver (or 'market') them to the customers."
Butler University marketing professor Daniel McQuiston said smart organizations sell themselves to employees, who become part of the message received by customers—especially as social media plays a greater role in consumer interactions.
"It is becoming even more important," he said, but cautioned that those internal conversations must be honest. "If it's not sincere, people will see through it."
Arlene Gavin, director of marketing at Indianapolis-based engineering and construction firm Performance Services Inc., has worked with Banner and his team since 2007. Although the culture-powered marketing initiative is new, she said SmallBox's staff already walks the walk.
"They live it," she said. "They really do."
Gavin said SmallBox has consistently delivered everything that's expected of a PSI partner organization: expertise, integrity and care for the relationship. Both companies aim to create positive experiences for customers, she said, leading to repeat business and unsolicited referrals.
Keeping workers happy is a key part of pulling that off. Although she doesn't quite subscribe to the notion that businesses should put employees first, Gavin acknowledged that great companies take great care of employees.
PSI's customers come first, she said, followed by its 66 employees—and then profits.
"Every single person who works here is expected to be a brand ambassador," Gavin said, adding that evaluating cultural fit also is part of PSI's hiring process. "It's pretty delightful."
The seeds of SmallBox's culture were sowed long before it became a centerpiece of the company's strategy. Banner and business partner Joe Downey cultivated a close-knit staff and encouraged them to make a difference in the community.
SmallBox houses Musical Family Tree, an online music archive project Banner launched in 2004, and it organizes the annual Broad Ripple Music Fest. Every December, bloggers who sign up on the company's Think Kit site get daily writing prompts. For four years, SmallBox has provided free website design and development for a local charity (or two) as part of its 24 Hour Web Project. And most recently, the staff decided to forgo a $5,000 bonus and give away five so-called "Nice Grants"—a move that prompted Indianapolis-based Angie's List (also a client) to pitch in another $5,000 for the program.
"When you do interesting things, people start talking about you," said Sara McGuyer, Small Box's chief culture officer. "We believe if you put good things out into the world, good things will come back."
Now Banner and his team will try to get other companies to join the chorus. Although culture consulting is just a fraction of SmallBox's business now, he said it should provide as much revenue as do Web design and marketing services by 2014.
"We're shifting our approach, going deeper into businesses and having conversations about leadership and goals," he said. "This isn't easy stuff. If it was, everyone would do it."•
Please enable JavaScript to view this content.