SOUTH BEND — Facing a looming deadline to find suitable office space for the state Department of Child Services and the prospect that abused or neglected children in Elkhart County could go without services, real estate broker John M. Bales and partner Bill Spencer in 2008 dipped into their own pockets to help close a difficult lease deal, their defense attorneys contend.
The state had picked a building at 1659 Mishawaka St. in Elkhart because it was in a safer area, better lit and an all-around nicer facility than a DCS office that had been targeted by graffiti artists and thieves. But the partners at Venture Cos. struggled to find a developer willing to buy and fix up the building, and lease it to the state. To persuade Indianapolis attorney Paul Page to buy it, they agreed to contribute a $362,000 down payment and collect a percentage of any proceeds of a sale in lieu of interest.
"This is no scheme to defraud the state of Indiana," argued defense attorney Larry A. Mackey in his opening statement Monday afternoon on behalf of Bales and Spencer, who are facing 13 counts of bank, wire and mail fraud stemming from the deal. "This was a scheme, frankly, to help."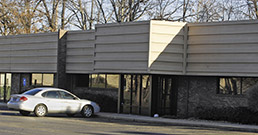 This office building in Elkhart is the subject of the state's legal case against brokers John Bales and Bill Spencer. (IBJ Photo/Jennifer Shepard)
The government disagrees: "Bales and Spencer decided to make extra money on a state deal, even though they're not allowed to, and then they hid it," Assistant U.S. Attorney Jesse M. Barrett said in his own opening statement in U.S. District Court for the Northern District of Indiana.
The government says the defendants collected an $88,400 commission on the lease, but did not rebate the state's portion (anything over 3 percent) until after they were served with a federal subpoena. They also were secretly paid development and broker's fees, prosecutors said. And since they put up the equity for the building, they were entitled to 25 percent of any gains in a hoped-for sale of the building. The government said in its opening that Bales himself expected to profit by about $290,000 on a sale.
Mackey, a Barnes & Thornburg partner and former federal prosecutor, sought to draw the jury's attention away from "one lease deal in Elkhart, Indiana" and instead focus on the pressure Venture was facing to locate offices in every county for the Department of Child Services, under a short deadline, and the firm's overall body of work.
The defendants faced a dilemma when their buyer for the building, Paul Page, refused to "do anything or pay anything," and pressure was coming from state officials to close the deal. Page, who also was charged, agreed earlier this month to plead guilty to one count of wire fraud in exchange for cooperating with federal prosecutors.
Mackey said Venture's DCS contact, Jeff Lozer, knew that Venture was "helping financially" to get the lease deal finished, despite the fact Venture's state leasing contract barred it from any direct or indirect ownership of any buildings leased by the state.
The defense says Venture's involvement in the deal amounted to a loan, which was not mentioned as off limits under the state contract.
Mackey showed e-mails from state officials praising Venture's work, and a wire statement showing Bales transferred the money for the building purchase in his own name. He told jurors they will hear positive testimony about the firm's work from state officials, including former DCS Director James W. Payne and Indiana Department of Administration Director of Real Estate Steve Harless.
"No matter how thin the pancake, there is another side," Mackey said. "Neither of these men did anything wrong or intended to harm anyone."
Over a five-year stint as a state consultant, Mackey said, Venture saved taxpayers $11.3 million on a total of 160 lease deals and collected $10 million from the sale of surplus state properties.
Mackey asked why Bales and Spencer would put a positive relationship with state officials and healthy profits (Venture collected $2.9 million over five years) in jeopardy. He noted the men have seven children between them.
The defense also questioned whether the state and bank are truly victims: The state wound up with a good building at a fair rent rate, Mackey argued Tuesday morning, and the bank has collected more than $215,000 in interest payments. Meantime, Bales still is owed more than $200,000 on his loan to Page.
Barrett, the assistant U.S. attorney, said that the crux of the government's case is simple, despite all the documents and testimony jurors are expected to consider: Bales and Spencer committed "financial fraud" on the state and Huntington Bank, then lied about it.
State officials were led to believe Venture had no financial interest in the Elkhart building, and the bank was told Page would be the 100-percent owner.
Barrett said the scheme came to light after state officials began asking questions in response to a series of stories about the Elkhart deal published in IBJ. Bales and Spencer ignored some questions from state officials and lied in others, the government claims.
The final e-mail the government showed in its opening was a question from an IBJ reporter to John Bales, dated May 6, 2010: "I assume you aren't going to answer my question about who is behind BAB Equity?"
The Bales-controlled entity BAB Equity LLC provided the down payment for L&BAB LLC to buy the Elkhart building. The government contends the entity is key to the fraud scheme.
The government's opening lasted about an hour and followed jury instructions from U.S. District Judge Robert L. Miller Jr., which began at 2:30 p.m. The attorneys selected the panel of eight men and six women, two of them alternates, from a pool of 48 potential jurors on Monday morning and early afternoon.
The trial began Monday and resumed late Tuesday morning. Mackey finished his opening statement before Spencer attorney Bernard Pylitt made his first remarks to the jury.
The first government witnesses are expected Monday afternoon, and the trial is scheduled to take up to two weeks.
Please enable JavaScript to view this content.