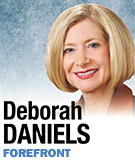 As a society, we do everything we can to protect our children from harm and prepare them to live productive and successful lives.
We are intent on improving K-12 education, and strive to provide preschool education, knowing the importance of affecting young minds early. Horrified by the threat of random violence in our schools, we talk of restricting access to guns and violent video games.
But if our primary concern is for our children, why do some people continue to advocate for legalizing marijuana? Washington and Colorado legalized the drug in November, and a bill has been introduced in the Indiana Senate that would decriminalize its use.
I suggest it's because the baby-boom generation continues to think it's all about us—that our personal enjoyment is paramount. Many also argue, with some justification, that the drug war has not prevented the sale and abuse of drugs. So, some say, let's drop the charade and legalize marijuana.
Here's the problem: Based on scientific evidence accumulated over many years, legalizing marijuana would threaten to undo all the good we are trying to do for children. Even in adults, use of the drug impairs ability to form memories and to shift focus. Aging boomers who remember the mild effects of marijuana during their youth should know that the drug is up to 20 times more potent than it was in the 1960s. (Of course, you know what they say: If you can remember Woodstock, you weren't there.)
Use by adults has been linked to increased absences and tardiness at work, increased Worker's Compensation claims, higher job turnover, and, among heavier users, lower education level and household income.
But in younger people, whose brains are not fully developed, the effects are far more pernicious. Even controlling for other factors, research consistently finds that students who smoke marijuana tend to get lower grades and drop out of school at a higher rate than their peers. Heavy use in the teen years even leads to declines in IQ scores. Teen marijuana use is linked to other drug use (the "gateway" effect), and to mental health problems.
Another problem: It is estimated that 9 percent of people who use marijuana will become dependent on it. That number increases to one in six among those who start using in their teens, and 25 percent to 50 percent among daily users.
A scholarly journal reported in 2007 that 61 percent of those under age 15 entering drug abuse treatment reported marijuana as their primary drug of abuse. Depressed teens are twice as likely as others to abuse marijuana, and teens who use even moderately are three times more likely to have suicidal thoughts than those who don't.
At this point, legalization advocates will say, "Laws against marijuana don't prevent all young people from using."
Right you are. But the message we send by making a substance legal is that it's safe. It's not, and you can bet that teen usage will skyrocket if it's legalized for adults.
Not enough to convince you? Research in recent years shows that use of marijuana by a pregnant woman, even before she knows she's pregnant, can produce a child with a brain that will never fully develop; or, at minimum, a child with learning disabilities or attention deficit hyperactivity disorder. These kids are handicapped before they escape the womb.
So my question to the legalization advocates is, do you really want to do this to our kids?•
__________
Daniels, a partner at Krieg DeVault LLP, is a former U.S. attorney, assistant U.S. attorney general, and president of the Sagamore Institute. Send comments on this column to ibjedit@ibj.com.
Please enable JavaScript to view this content.