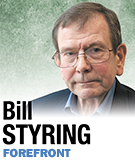 Some time before April 15, the Legislature must decide whether to accept a deal from the federal government to expand Medicaid coverage. It's shaping up as one of two or three major calls our lawmakers must make.
This question can't easily be resolved by appealing to core principles or cut-and-dried cost/benefit analysis.
Medicaid has more angles than a rhomboidal tetrahedron. You can get Medicaid if your cash income is less than X percent of the federal poverty level (a little over $22,000 for a family of four). But X is different for jobless parents, working parents, children ages 0-1 and 6-19, pregnant women and divorced unicorns.
Obamacare does two things to the Indiana Medicaid program. The first is easy, at least in terms of policy decisions by the state. Currently, about a third of eligible Hoosiers don't apply. Obamacare tells these people they now must have insurance. One assumes Medicaid will be the easiest, cheapest way for them to get it.
These "old eligibles" will be accepted and Indiana's Medicaid rolls will balloon. Grit your teeth and pay up.
It's the second consequence of Obamacare that poses the policy problems.
If a state agrees to a uniform standard of 133 percent of the federal poverty level for all groups, then the feds offer a sweet deal for the "new eligibles" who become eligible under the relaxed standard. Through 2016, the feds will pay 100 percent for Medicaid for this group. In 2017, it's 95 percent, declining to 90 percent by 2020.
It's easy to see how battle lines get drawn here. Proponents of expansion have a simple argument. How can we turn down this deal? We're passing up gobs of "free" federal cash. Look at all the medical care Hoosiers can get with the taxpayers of the other 49 states hauling most of the freight.
The case against adopting the new federal standard requires a longer view and a large dose of cynicism. The big numbers and bucks are with the "old eligibles." We're already locked into that huge expansion of Medicaid. If we gun Medicaid further with new eligibles, where are all these people going to find docs?
What Congress giveth, Congress can taketh away. Those promises to pay all or most of the cost of new eligibles can melt like ice in July.
A real cynic would observe that blue states tend to have the most generous current eligibility standards for Medicaid, thus are relatively less affected by the new, looser federal standards. Red states tend to be stingier and are more affected if they adopt the federal standards. This isn't universal, but it's a pretty good rule of thumb.
Under pressure to cut the federal deficit, congressional Democrats might someday be tempted to scale back those juicy reimbursements for new eligibles, since red states are hurt more than blue ones.
Plus, what happens in 2021 and beyond when all bets are off?
Over 40 years ago, I was a young and green legislative staff type. I watched the Indiana House debate the bill that got Indiana into the Medicaid program. The bill's author figuratively swore on a 12-foot stack of Bibles that the program would never cost $60 million. He was right about that. We blew past $60 million so fast you didn't even notice. Now we spend twice that much in a week.
Medicaid never seems to work out as promised. If it were up to me, for that reason alone I'd pass on the federal "deal."•
__________
Styring is an economist, a former Indiana Chamber of Commerce lobbyist, and a former senior fellow at the Hudson Institute. Send comments on this column to ibjedit@ibj.com.
Please enable JavaScript to view this content.