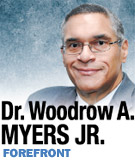 They say bipartisanship is dead in Washington, D.C. They say a Democrat won't buy a Republican a beer and a Republican won't share a glass of Chardonnay with a Democrat.
Well, "they" are wrong, at least the night before the presidential inauguration in a fancy D.C. hotel where the Indiana Society of Washington, D.C., held its own pre-inaugural ball; where the women wore long, elegant dresses and uncomfortable-looking shoes; and where the men wore black tuxedos; and where we were entertained by the Purdue University Glee Club and Mike Pence served as master of ceremonies.
The Indiana Society of Washington started as a Republican club for Hoosiers in Washington around the time of the Civil War, but rebranded itself as a bipartisan philanthropic social organization in 1905.
For over 100 years, it has given politicians, political staff members, business leaders and others with strong Indiana ties a home away from home in the frequently hostile confines of Washington. And celebrating the inauguration of our president, as Hoosiers, regardless of party, has been a tradition since 1952, when all the official balls to celebrate the election of Dwight Eisenhower were sold out.
Although more partisan bickering has crept into Indiana politics in recent years, we can still avoid becoming a state where our differences paralyze us. In Indiana, defeating our common enemies remains a more compelling strategy. I believe we are still a state (and Indianapolis still a city) where ideology does not trump common sense.
We teach our kids to shake hands with the opposing team after the game is over. We want them to understand that, in team sports, the goal is to work hard and to perform better than the opposing team, and not to humiliate or embarrass the individuals on that team. We want them to understand that sportsmanship and collegiality are core values, symbolized by the post-game handshake (or fist-bump).
The Indiana Society Inaugural Ball and similar events are a post-game (post-election) fist-bump for adults. The evening gowns worn by Republicans and Democrats were equally elegant and the tuxedos were equally black. Dance floor skills (or lack thereof) were unrelated to political party. And the charities supported by the event were chosen by members of both parties.
In order for us to solve difficult problems, we need to know each other well enough to trust one another and to then find our points of agreement. Jamie Dimon, CEO of JPMorgan Chase, recently was asked his solution for the partisan rancor in Washington, and without missing a beat he responded, "More martinis," for it was his theory that the humans elected to solve the nation's problems did not know one another well enough to work together.
The next night, my wife and I attended the official Presidential Inaugural Ball with thousands of people from all over the world. There was much more lavish entertainment, much less tasty food, much longer bar lines and bathroom lines, much tighter security, no room for dancing, and little opportunity for the one-on-one conversations that made the Indiana Society such a memorable event.
Yes, we witnessed the special moment when the president shared the traditional dance with the first lady, but we had to watch it from afar on one of the three Jumbotron screens in the Washington Convention Center. We had a good time both nights, but our Indiana team (the ball and the state) beat Washington. And it beats Washington.•
__________
Myers is a former chief medical officer for WellPoint Inc. and served as health commissioner for Indiana and New York City. Send comments on this column to ibjedit@ibj.com.
Please enable JavaScript to view this content.