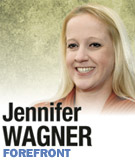 Last November, I received an e-mail from Indiana University asking me for input on a branding campaign for prospective students. Intentionally or not, the survey focused on creative elements for the School of Journalism.

I was psyched. I love IU. I'm a proud graduate of Ernie Pyle Hall. And I think the university does an outstanding job of keeping its alumni involved.

When I took a look at the campaign, my heart sank.

It was visually pretty, but the content—and I'm paraphrasing—focused on choosing the school because you could spend time in a foreign country learning about another culture.

That's a worthy cause, for sure. I spent a summer in London taking classes that both counted toward and enhanced my IU degree.

But should today's rising college students really be making their enrollment decisions based on marketing outreach focused on fun times in far-flung lands, or should we be taking a more realistic approach to higher education?

In September 2011, I helped Complete College America—a national not-for-profit headed by former Indiana Commissioner of Higher Education Stan Jones—debut its "Time is the Enemy" report.

Among the report's key findings: Only 25 percent of students are living the traditional college experience as full-time attendees housed on campus with little or no outside employment. The report also found that part-time students are far less likely to graduate, and students generally wind up taking too many credits and too much time to complete their degrees.

In other words, we're no longer living in a world where people pursuing degrees are able to "find themselves" on four-year campuses with Mom and Dad footing the bill.

Lawmakers at the Statehouse quarrel with higher education leaders about the rising cost of tuition and the mountains of debt with which today's students graduate. If you've ever made a loan payment or contributed to a 529, you know that's a conversation we need to have.

That can't be where the conversation stops, though.

Even if we hold the line on tuition, college will still be expensive. So we have to talk about ROI, and we need to start thinking about college as an investment, not an adventure.

Students need more information about what their degrees will get them—and whether, in some cases, those degrees will even open any doors. (Yes, for-profit institutions, I'm looking at you.)

We need to focus on making it easier for students to transfer credits and complete their courses of study because the only thing harder than paying off a student loan with a degree is paying off a student loan without one.

The good news is, Indiana is well equipped to tackle this problem with strong leaders at both our public and private institutions. From our incredible community college system up to our research institutions and highly ranked private schools like Butler University and the University of Notre Dame, we've got the infrastructure to blaze a trail.

A dozen years from now, we'll be taking our daughter on college visits and helping her pick the right school. As parents, we want her to be happy, but we also want to make sure that she's focused on what comes after four or more years of higher education.

If we can start changing that framework now—ensuring that our students are thinking two steps down the road and that they have the right tools to succeed along the way—I believe academia will adapt and our economy will thrive.•

__________

Wagner is a lifelong Indianapolis resident and founding principal of Mass Ave Public Relations, a local public relations and publicity firm. Send comments on this column to ibjedit@ibj.com.