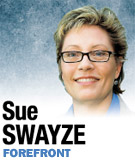 Beware the social issue? Hardly.

On opening day of the 2013 General Assembly, House Democratic Leader Scott Pelath called for a two-year moratorium on social issues, suggesting that the body had bigger priorities in job growth and education rather than divisive issues such as abortion, gay marriage and women's health.

Pelath asked that House Republicans not stray far from the center, a reasonable request from a Democratic caucus that is further to the left than in recent memory and facing the giant 69-31 Republican super-majority.

But just what is a social issue and why is it to be feared?

Wikipedia defines a social issue (also called a social ill or a social problem) as an issue that relates to people's personal lives and their interactions with a wider society. It distinguishes social issues from economic issues (unemployment, blighted neighborhoods) and other ones (illiteracy, truancy, aging populations, teen pregnancy and abortion), and goes on to suggest that some, such as immigration, have both social and economic aspects.

Holding degrees in social work, I would add poverty, at-risk children, homelessness and addictions as social issues. I would throw in animal rights, but it could also be an economic issue if it were about farm animals. Gun control is obviously a public safety issue, but combine it with the mental health issue and you've got a powerful social issue dominating the airwaves of late.

Ironically, House Democrats have a few of their own, such as Rep. Vanessa Summers' bills on child care and children's issues, and Rep. Greg Porter's on anti-bullying.

How is it that the Democrats can believe that social issues can wait? Are they saying that social issues and the at-risk populations they serve are not as important as economic issues? Don't they want to enhance the Department of Child Services hot line, expand pre-kindergarten and child care, and create anti-bullying services?

Do they really want to ignore the most needy because we need jobs?

This discussion is a ruse, of course. Pelath is simply asking the majority not to railroad issues that run counter to the Democratic platform of expanding abortion and promoting gay marriage. They don't want these votes on their records again. They also can't grandstand and walk out again in protest because the Republicans can now still do business with the super-majority quorum.

There is a grand irony here: When the marriage amendment last went to the House floor in 2011 for a vote in the form of House Joint Resolution 6, it passed 70-26. Of those voting yes, 10 were Democrats.

Also in 2011, House Bill 1210, known as "defunding Planned Parenthood," passed 66-32, and seven of those yes votes were Democrats.

Southern Indiana and other blue dog Democratic districts are more conservative and approve of these social issues, as these votes and their legislators would attest.

What Pelath (and, frankly, some in the Republican caucus) are missing is this: Hoosier voters sent a super-majority of Republicans—socially conservative ones—to the House this year. They meant it.

They want to keep traditional marriage so a child can have a mom and a dad, and they want to limit the dismembering of unborn children. They don't want a moratorium. They want a super-majority to act and to act swiftly.

Both parties would be wise to review the clear message of the voters and disregard the media and political pundits. Think of the outcome of the November election with Hoosier voters serving as a sort of poll: Here came your supermajorities. Now lead.•

__________

Swayze leads the Indiana Family Institute's Hoosier Congressional Policy Leadership Series and has held numerous lobbying positions with not-for-profit organizations. Send comments on this column to ibjedit@ibj.com.