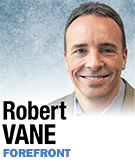 While I freely admit that my political memory and experience do not equal that of many of the folks on these pages, I am quite sure the following statement rings true: No governor in modern Indiana history is laboring under more expectations than Mike Pence.
Not only does he have the expectation of Hoosier Nation and beyond to continue the magnificent legacy of Mitch Daniels (whom Pence frequently called "the best governor in America"), but he also has the expectation of the enlightened elite of staying away from certain issues and topics.
If the tenor and temperature of his first State of the State address is any indication, Pence is poised to meet these expectations and more.
When you talk to pundits and Democrats, even those who disagree vehemently with our new governor on the issues, nearly all praise his political skills and personal authenticity.
During the campaign, Pence deftly handled the relentless media and Democratic drumbeat about social issues. The Democrats whined for months that Pence didn't talk about social issues—hoping that he would, so they could whine about him talking about social issues.
Pence is one of the most articulate men in America when it comes to defending the rights of innocent human life, and count this writer among the many who hope he never stops speaking out on this critical issue.
A significant component of his victory was his ability to forge a coalition of Daniels voters, traditionalists, young people and veterans. Pence campaigned, in superb fashion, not on his accomplishments, but rather on a specific vision to catapult Indiana even further ahead of our Midwest neighbors in the 21st-century economy.
Pence's first State of the State speech was a masterful extension of the governing philosophy he laid out in 2012.
He deserves tremendous credit for resolutely promoting his plan to cut income taxes 10 percent. The federal tax burden borders on the oppressive—with more to come in the next four years. Pence is absolutely correct that Indiana can, and should, do this.
I am considering many investments and expenditures for my one-man veteran business. These are tough decisions, as margins for many small businesses are frighteningly small, but these decisions would become much easier with a little extra money in my account.
The Pence tax cut puts $500 million back into the Indiana economy and lets Hoosiers decide for themselves the best way to spend their hard-earned dollars.
Pence also made it clear that giving Hoosiers more money in their pockets doesn't mean we can't do the things needed to keep our covenant with our citizens to invest in areas like education, infrastructure and helping our veterans.
Pence's budget increases funding for education—including full-day kindergarten—and fully funds teacher pensions each of the next two years.
Pence also wants to invest nearly $347 million in excess reserves on roads, bridges and infrastructure.
Finally, the Pence administration makes a clear commitment to Hoosier veterans by allocating more money for job training, seeking federal certification of county veteran service officers, and creating a goal to procure 3 percent of state contracts from veteran-owned businesses.
At the end of his time as governor, Pence is going to be remembered as the best friend my fellow Hoosier veterans have ever known.
With boldness as his watchword, Pence is fulfilling the promise he showed on the campaign trail and the promises he's made to Hoosier voters. The best is yet to come, and we are all fortunate to be a part of it.•
__________
Vane, a U.S. Army veteran, has worked for elected Republican officials including Indianapolis Mayor Greg Ballard, and currently owns the public relations firm Veteran Strategies. Send comments on this column to ibjedit@ibj.com.
Please enable JavaScript to view this content.