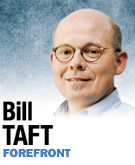 Several recent zoning battles have revealed an opposition to change in many Indy neighborhoods that could sabotage the changes that are necessary if Indianapolis is to compete with other metro areas and even its own suburbs in coming decades.
When examined next to the recent push to expand our minimal transit system, it appears Indianapolis is at a watershed moment at which it must take a hard look at what it has been and compare it to the type of city that people will want in the future.
Do we want to stay a sprawling, essentially outdated, suburban city, or are we willing to remake ourselves into the kind of vibrant city that will compel our children and grandchildren to make this their home?
The land at the southwest corner of East 86th Street and Keystone Avenue is an important illustration of how we will grow. An experienced developer from Wisconsin proposes to construct a mixed-use development called Ironworks at Keystone Village on the site of a vacant strip mall. This project would offer 130 high-end apartments in a five-story building next to roads in a neotraditional design form, with parking hidden on the back side and first-floor retail and restaurant storefronts facing traditional sidewalks.
The developer is capitalizing on proximity to the shopping and dining of Keystone at the Crossing, employment centers like Woodfield Crossing, and recreational amenities like the Monon Trail.
The Ironworks concept and design are consistent with national urban development trends, vividly illustrated in nearby downtown Carmel.
A simple survey of any planning or real estate development journal will reveal that the future of cities is to offer high-quality, truly urban experiences that concentrate a variety of activities so people can meet most daily needs on foot. This lifestyle can work only by increasing density at important intersections like 86th and Keystone; mixing uses; offering quality transit options; and giving bikes, sidewalks and pedestrians equal treatment with cars.
Ironworks would create apartments desirable to people who don't have similar options in the Nora area, retaining residents who might flee across the county line for such a product. It will dramatically increase the assessed value of the land and bring new dining and retail options to a blighted corner.
Sadly, the Nora Northside Community Council strongly opposes the project. It believes the five story "brick wall," (actually a building full of expensive apartments) will somehow detract from the beauty of a site that is mostly wrapped by the Keystone entry ramp and La-Z-Boy showroom.
Their argument seems to be that they want 86th Street to remain a 1980s suburban thoroughfare. My question is whether today's 86th is a "product" that businesses, shoppers and residents will desire in coming decades, or whether Ironworks introduces a development pattern that is the only viable option to avoid a cycle of impending suburban decline.
Similar resistance to a mixed-use city lifestyle has shown up in recent battles over the new parking garage in Broad Ripple and the development of new apartment buildings on Virginia Avenue between downtown and Fountain Square. In each of these cases, people worry about allowing uses that will increase the activity in their neighborhood.
Indianapolis should not resist such projects. It should instead fear the loss of activity, residents and investment that will inevitably occur if we do not reshape neighborhoods to offer a quality of life that the next generation is demanding when they choose a city.•
__________
Taft is Indianapolis executive director of Local Initiatives Support Corp., a not-for-profit that invests in neighborhood redevelopment projects. Send comments on this column to ibjedit@ibj.com.
Please enable JavaScript to view this content.