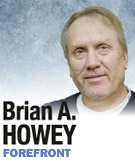 When it comes to President Barack Obama and Hoosiers, well, it's complicated.
There is no question that Obama is not popular here. In the final Howey/DePauw Indiana Battleground Poll last October, Obama trailed Republican Mitt Romney 49 percent to 40 percent, though a month earlier Obama had captured 95.2 percent of the Hoosier African-American vote and 71.8 percent of the "non-white" vote, which would include Latinos and Asians.
Here is the most notable reason for the president's lack of popularity here: Obamacare. In September, 55 percent of Hoosier voters said they would support a candidate who would oppose the Affordable Care Act.
But this story is far more complex than just Obamacare.
The president made history here in 2008, losing a vigorously fought Democratic primary battle with then-U.S. Sen. Hillary Clinton by less than 1 percent of the vote.
From March through November of that year, something profoundly unusual happened: The Obama campaign opened dozens of field offices. He and the future first lady made almost 50 forays into the state, including his last stop as a candidate on Election Day 2008, and his first stop outside of Washington as president when he came to Elkhart to push his stimulus package.
In doing so, Obama became the first Democrat since 1964 to carry Indiana's Electoral College votes when he barely clipped Republican John McCain that November. Leading into 2004, the fact that an African-American named Barack Hussein Obama would carry the 11 Hoosier votes was unfathomable.
There's another reason for Obama's unpopularity here: his race. In April 2008, at the apex of the Obama/Clinton primary battle, U.S. Rep. Baron Hill endorsed Obama. He would later tell Howey Politics Indiana how shocked he was with the reaction of some Democrats, who drew pause over the candidate's race.
It's not widely discussed, but the fact that Clinton carried almost all of the "river country" counties along the Ohio and Wabash was a subtle reminder that much of southern Indiana had been settled by folks from Virginia, the Carolinas and Kentucky.
Former congressman Lee Hamilton, who represented southeastern Indiana's 9th District for more than three decades, told me racial sentiment about the first African-American president "bubbles and seethes beneath the surface." This is particularly true, he observed, in southern Indiana, "which was settled by Southerners."
"Many Hoosiers see a drift of power to people and groups they don't fully understand or know," said Hamilton, who now heads Indiana University's Center on Congress. "So there's a theme of, 'Let's get our country back.' I ran into that in this election."
On Jan. 20, Obama took his second oath of office. In Indiana, he carried just 44 percent of the vote.
Yet, Obama has had a profound impact on Indiana.
He saved the auto industry, which was on the brink of liquidation when he came to office. The Brookings Institution estimated 150,000 Hoosier jobs were at stake going well beyond General Motors and Chrysler into hundreds of supplier firms.
His stimulus package pumped billions of dollars into the state, propping up the biennial budget. His education reforms mirror those of Gov. Daniels and former education chief Tony Bennett. His increased fuel economy standards will cut U.S. dependence on foreign oil and save consumers money.
Obama could have gotten more than 44 percent of the vote here, but he didn't need Indiana this time, so resources weren't spent here. The defense of the auto industry resurrection fell on Joe Donnelly, who defeated Richard Mourdock and is now a U.S. senator.•
__________
Howey is a third-generation Hoosier journalist who publishes Howey Politics Indiana. Send comments on this column to ibjedit@ibj.com.
Please enable JavaScript to view this content.