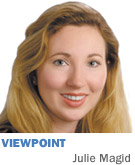 Competitive, growing public companies that develop job opportunities and invest in the needs and resources of our community have a long-standing ripple effect.
Anyone who has tossed a stone, however, knows some ripple effects are more impressive than others. Public companies with women on their boards outperform those with less gender diversity.
Furthermore, corporate boards make decisions about employees, suppliers, consumers and communities that affect the entire state. Promoting diverse leadership—and committing to it through the highest corporate positions—is a way to create a stronger company by reflecting a diverse perspective.
As advisory board chairwoman for the Women's Fund, I have seen the impact of investing in the ripple effect. Nancy, an artist specializing in aluminum embossing, received a micro-loan through Grameen Indianapolis. She hopes to build a business for her and her family to work together.
The micro-loan concept, brought to Indianapolis by many organizations and individuals investing together to build our community's economic security, is based on the concept that small investments have a ripple effect. These investments build stronger individuals, families and communities, and make a difference in our city's economic security and sense of community.
Elaine Bedel, Women's Fund advisory board vice chairwoman, is another example of the ripple effect. She built a successful financial planning business, Bedel Financial Consulting, and is committed to building a diverse talent pool to benefit the entire community. She gives back to our community as a philanthropist and a mentor.
Traci Dolan, chief administrative officer for ExactTarget, a business built in Indiana that has grown to one of the state's largest public companies, not only serves as a senior executive but is also active in the community, serving on the Central Indiana Community Foundation Advisory Board, the Kelley School of Business Indianapolis Board of Visitors, and the board of directors of Indiana-based public company Steel Dynamics Inc.
Research shows that, on average, companies with diversity on their management team and board have better financial return compared to others. Public companies with the most number of women on their board outperform those with the least number of women in terms of return on sales and return on capital investment.
No magic number represents a better likelihood of stronger financial performance, but one interpretation offered of the research showing a connection between diverse boards and financial performance is companies that are more inclusive and forward-thinking may see a payoff on the bottom line.
This is reinforced by Catalyst's findings that companies with sustained large numbers of women on a company's board of directors (defined as three or more in four of five years occupying board seats) saw significantly better performance than companies with no women on the board.
Vera Bradley is an example of a public company with sustained board representation of women. Started by two women, this company has grown to one of the 50 largest public companies in the state. Perhaps not coincidentally, the two largest Indiana public companies, WellPoint Inc. and Eli Lilly and Co., also meet Catalyst's definition of sustained large number of women occupying board seats.
I encourage you to consider investing in the ripple effect by supporting organizations that bring more diverse perspective to the business community and ensure your voice is heard as an employee or consumer of public companies to encourage a diverse and broad perspective. In doing so, businesses become financially stronger and more competitive in today's marketplace and Indiana reaps the rippling benefits.•
__________
Magid is advisory board chairwoman of the Women's Fund of Central Indiana and an associate professor of business law at the Indiana University Kelley School of Business. Send comments on this column to ibjedit@ibj.com.
Please enable JavaScript to view this content.