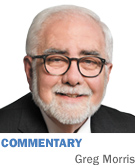 You've seen the news coverage. Starting in August, the United States Postal Service will discontinue Saturday mail delivery. Forget the bills. Forget the junk mail. Who cares if you have to wait until Monday to get those items? In fact, studies have shown that seven out of 10 Americans are fine with eliminating Saturday mail delivery.
But, the burning question in central Indiana is, "When am I going to get my IBJ if mail isn't delivered on Saturday?" Don't worry. We have a plan. It's been ready to go for months, in anticipation of this inevitable news.
Read on to learn about our plan, but first, a few facts about the U.S. Postal Service:
• First-class, single-piece annual volume has decreased 37 percent since 2007.
• The USPS lost $15.9 billion in fiscal year 2012.
• The post office is in default on a payment of $11.1 billion it owes the U.S. Treasury for retiree health benefits in fiscal year 2012.
• The USPS has exhausted its $15 billion borrowing limit.
• Cash available is low—and running out fast.
• Since 2006, the USPS has reduced its career work force by 193,000 positions—without layoffs.
• More than 200 mail-processing facilities have been consolidated.
The bottom line is that people don't mail as much as they used to, and the volume continues to decline. How many bills do you mail? Now think about how many you pay online. How many letters have you written in the past year versus how many e-mails you've sent on a daily or hourly basis? People communicate differently today. That's pretty obvious.
Desperate times call for desperate measures. The postal brain trust has been talking about eliminating Saturday delivery for years, and it looks like the fight to keep that from happening is about over. You're likely to see some more wrangling in the near term, but this should be a done deal. The savings to be realized with five-day mail delivery is $2 billion per year. That still leaves a $14 billion annual deficit, but you have to look for savings everywhere when you're talking about deficits this large.
In brief, here's the new postal plan. Starting the week of Aug. 5, you'll receive your mail Monday through Friday only. However, the post office will continue delivering packages, a growing part of its business, on Saturdays. Post offices will remain open on Saturdays, and mail will be delivered to P.O. boxes on Saturdays.
More postal-reform legislation is being sought by the USPS as it fights for increased flexibility to support a sustainable business model. I'm sure we'll hear a lot more on this topic as the year progresses.
What about IBJ? What's the plan to ensure you have your IBJ to read on Saturday? In short, we're moving up our deadlines by one day and you'll receive your IBJ in Friday's mail. For decades, we've gone to press on Thursday afternoon. The paper is printed overnight and Friday morning, then sorted for mail delivery and distribution to newsstands and vending machines. All the mailed copies are delivered to the post office by Friday afternoon.
About 50 percent of our subscribers elect to have IBJ delivered to their home, and those folks (in central Indiana) receive their paper in Saturday's mail. Most of the other half of our subscribers get their paper on Monday at the office.
Starting sometime in June or July, we'll go to press on Wednesday afternoon, the paper will be printed overnight and on Thursday morning, and it will be delivered to the post office Thursday afternoon to arrive both at the office and at home in Friday's mail.
If you're a home subscriber who values your Saturday quality time with IBJ, you'll already have your paper and you won't have to wait for the Saturday mail. Saturday breakfast with your IBJ might become your new routine!
Of course, we'll continue to break news daily on ibj.com, on your mobile devices and in your e-mail inbox. And we plan to launch an improved website in tandem with the change to Friday delivery. I'll have more to say about our new Web and digital offerings in the months to come.
So don't worry. You don't need Saturday mail delivery to stay on top of IBJ's exclusive in-depth business news. Thanks for continuing to read and support IBJ. We appreciate your business.•
__________
Morris is publisher of IBJ. His column appears every other week. To comment on this column, send e-mail to gmorris@ibj.com.
Please enable JavaScript to view this content.