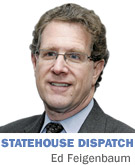 One month into the administration of Republican Gov. Mike Pence, you can hold one truth to be self-evident: He's not the second coming of his predecessor, Mitch Daniels.
When Pence retained a large number of Daniels administration department heads, many believed this signaled an uninterrupted chain of policy.
But don't let outward appearances fool you. In assorted subtle ways, Pence has adroitly distanced his administration from his predecessor's.
Parse some major moves made by the new governor over the past six-odd weeks, and you'll find interesting reversals of tone, message and policy from the past eight years—and we're not just referring to the executive clemency accorded to Dani the Deer's caretakers.
Notice that key changes have come quietly. Some haven't emanated from major policy pronouncements by the governor, but rather in understated responses to questions asked of him.
While Pence's initial response to the Connersville deer rescue emphasized the importance of the law and a reluctance to throw his Department of Natural Resources under the proverbial bus, he left the door open for discretionary reconsideration. That allowed House Speaker Brian Bosma, R-Indianapolis, to more lightheartedly approach the issue from the leniency perspective, and the rest is history.
But (despite the headlines in central Indiana) there were more important examples of policy and operational divergence than dealing with Dani.
Daniels took pride in divorcing the Indiana Economic Development Corp. from the Indiana Department of Commerce, and rendering IEDC the new face of statewide economic development promotion.
Without fuss, Pence effectively restored a major role for Commerce in the eco-devo equation, appointing a new Commerce chief and one to run IEDC, both new to state government, not from Indianapolis, and not identified with Daniels. Pence has responded positively to media and bipartisan legislative complaints about the lack of transparency in IEDC deal-making.
Daniels felt strongly that a deal was a deal, and that businesses that invested because of a certain regulatory environment or specific assurances should be able to largely rely upon that foundation.
But even before his inauguration, Pence heard national security concerns about a Pakistani company's plan to invest some $3 billion to build a 400-employee fertilizer plant in Posey County. Military leaders told Congress that the company, Fatima, had rebuffed concerns about its products being used in explosive devices targeting American and allied forces.
Complicating the situation, Fatima was using the faith and credit of the state of Indiana to float almost $1.3 billion in bonds to help finance the project.
In mid-January, Pence paused the project, and his economic development team admonished the company to address armed services concerns. He didn't make his feelings or the warning public until a visit to southwestern Indiana, where a reporter asked about the deal following a newspaper report out of Washington, D.C.
The Pence budget would shift more than $50 million in annual ag-equine industry racino slot wagering tax subsidies to other state priorities. Those subsidies were viewed by Senate Committee on Appropriations Chairman Luke Kenley, R-Noblesville, and the Daniels administration as an appropriate commitment made to a Hoosier industry for supporting the original racino legislation.
Then there was Amazon.com.
There were grumbles—but no legislative pushback—when Daniels unilaterally unveiled a surprise agreement with Amazon.com to toll collection of online sales taxes after it agreed to open another Indiana warehouse.
While some questioned his authority (and others noticed Amazon.com opening facilities elsewhere while collecting and remitting taxes in those jurisdictions), only after Daniels left office did legislators step in. The House overwhelmingly (79-18) passed a measure requiring earlier collection of such taxes—with no opposition from Pence.
Leucadia/Indiana Gasification LLC's $2.8 billion Rockport energy plant was another of Daniels' big deals. His Indiana Finance Authority generated the novel power arrangement. And after an initial 2011 Senate foray faltered, a full-court gubernatorial push resuscitated the project.
The plan survived a new bipartisan attempt to undercut it at the end of the 2012 session, but now its future is looking shaky again. Asked about the project, Pence pronounced himself open to review and legislative reconsideration.
That means Pence has been willing to, at a minimum, undertake serious due diligence on a pair of southwestern Indiana Daniels projects with $6 billion in investment at stake.
In most of the examples cited, Pence was not alone in expressing reservations. Legislators of assorted stripes are champing for a second bite at the apple—without a chiding serpent hovering above this time.•
__________
Feigenbaum publishes Indiana Legislative Insight. His column appears weekly while the Indiana General Assembly is in session. He can be reached at edf@ingrouponline.com.
Please enable JavaScript to view this content.