An open letter to actress Diane Kondrat.
Dear Diane,
I know your plans are already firm and that you are leaving in May and that your daughter lives out in Portland and your son is in Seattle and the scenery is gorgeous and blah blah blah. And, as someone who up and moved my clan here to Indianapolis about 17 years ago, I appreciate that sometimes relocation might seem necessary. Even essential.
But still, Diane, come on. Don't go. Stay here.
Let me give you a few reasons for sticking around.
1. While thousands, perhaps more, have seen your outstanding performances at the Phoenix, the Indiana Repertory Theatre, Cardinal Stage and more, I venture to guess there are far more Hoosiers who have yet to see you on stage. Who are you to deny them that experience?
Sure, it's too late to see your masterful work in "August: Osage County," your hilarious Indy Fringe show (whose name makes e-mails get caught in spam filters), or your inspired Tennessee Williams spoofing in "Durang-O-Rama"). But there's great stuff to come. I know there is.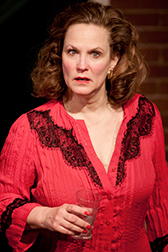 Diane Kondrat as Martha in "Who's Afraid of Virginia Woolf?"
2. As I write this, you are completing a run of "Who's Afraid of Virginia Woolf?" in Bloomington. Martha is a dream role for you, I know, and you've succeeded in it brilliantly. You've done that not by merely bringing Martha to three-dimensional life, but by both feeding off of and feeding your fellow actors, creating the finest ensemble cast I've seen here in, well, in my 17 years in Indiana.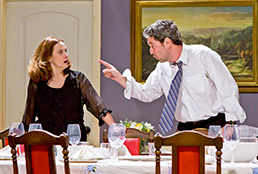 Diane as Ivy in "August: Osage County." (Photo courtesy of Phoenix Theatre)
It takes a special kind of theatrical bravery to play this troubling, funny, complex women in so intimate a space—with the audience inches from the action. Yet never for a minute did I see an actress "working." I saw Martha, in all her frightening, sad, human glory.
Someone (I hope) will wisely reunite that entire cast during the 2013-2014 season for an Indy run. Of course, that can happen only if you stick around.
3. As an actress who does not settle for mediocrity, who doesn't just go through the motions even in a role that's beneath your skill level, and as one who takes risk after risk after risk, you are rare in these parts.
Oh, sure, there are some very good actors here. And sometimes that acting talent meshes well with the theatrical material at hand. Sometimes, magic happens. But magic is more likely to occur on stage when there's training and a passionate commitment to bringing to life every moment of a show—to finding the truth in every on-stage relationship.
You demonstrate an all-too-rare desire to keep improving, to keep learning, and to keep discovering. It's not just you who will be leaving, but also the inspirational impact you have on others.
There are more reasons, of course. And I realize this won't sway you. But maybe you'll come back for a visit. A working visit.
Here's hoping.•
With great appreciation and admiration, Lou Harry
__________
This column appears weekly. Send information on upcoming arts and entertainment events to lharry@ibj.com.
Please enable JavaScript to view this content.