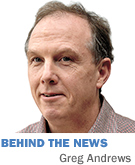 You may not have heard of Echo Automotive, a startup with about 15 workers, most of them in Anderson. But just a few weeks ago, the company—which has no revenue but big ambitions in the hybrid market—had a stock-market value of $270 million.
That's crazy, argued some investment websites, which suggested the shares were due to tumble. And they have swooned, dropping from a peak of $3.61 a share to 97 cents—leaving the market value at a still-impressive $72 million.
Echo executives eventually hope to transition the company to NASDAQ. But for now it's on the OTC Bulletin Board, the Wild West of investing—where cheap stock prices and low trading volumes can translate into wild swings in stock price.
It's an environment where pump-and-dump schemes flourish. Promoters hawk a stock, driving up the share price before cashing out and seeing prices plummet.
On the other extreme, it's fertile territory for short-sellers, investors who make money by betting a stock price will fall. They often shove shares downward by questioning the fundamental viability of a business.
Hence the extreme views on Echo: "Echo Automotive … Crushes The Hybrid Vehicle Competition" read one contributor's post on the investing website SeekingAlpha.com.
Another contributor to the same site predicts that Echo "is in the process of imploding."
Echo CEO Dan Kennedy scoffs at the doomsday scenario.
"People who are saying the things they are—they are going to look silly soon enough," he said.
Kennedy, 40, can't promise that Echo will succeed. But he said it's a real business with strong prospects—especially after picking up employees and licensing battery technology from the now-defunct Bright Automotive in Anderson.
Bright, which planned to make plug-in electric delivery vans, went out of business a year ago after prospects dimmed for securing a $314 million federal loan.
The company, which once appeared poised to create hundreds of central Indiana jobs, was founded by John Waters, who in the 1980s and 1990s helped develop General Motors' EV-1 electric car.
Waters now has come aboard Echo as its chief technology officer. He's helping the company with development of its signature product—a bolt-on hybrid system that will help companies reduce gas consumption for their fleet vehicles.
It's a lower-cost approach than rivals are pursuing, and it uses off-the-shelf components. That helps explain why bringing it to market won't require the tens of millions of dollars that competitors doing ground-up rebuilds of powertrains are raising.

Kennedy
While those systems might boast better gas mileage, Kennedy said, their higher upfront costs mean the break-even point is further down the road.
"We are really focused on how we save money for people," Kennedy said. He said the company is in discussions with firms that would finance purchases of the bolt-on system. That could eliminate any upfront cost because the monthly payment would be less than the monthly fuel savings.
Retired racecar driver Arie Luyendyk, a member of Echo's advisory board, said he will use his contacts in the auto industry to help Kennedy and President Jason Plotke get in front of the right people.
"If you can equip postal-service trucks, or Federal Express trucks, it will save them a ton of money and at the same time be a little bit more friendly to the environment," Luyendyk said.
Kennedy and Plotke both live in Arizona, where the company technically is based. But Kennedy said one of Echo's strengths is that the heart of the company is in Indiana, a state with a rich history of automotive R&D. In an investor presentation, Echo calls central Indiana the "Silicon Valley of advanced vehicle powertrain."
The pair had been working on their bolt-on hybrid system for about a year when Bright folded in the spring of 2012. Kennedy said licensing some of its technology and hiring some of its talent advanced product development by leaps and bounds.
Echo jumped onto Wall Street in October 2012 by buying the shell of a public company. After initially languishing, shares spiked in January and have seesawed since. At the current stock price, the 52 million shares held by Kennedy, Plotke and about 18 other original investors have a market value of $50 million.
Kennedy said he and those original investors haven't sold and aren't looking to. He said their focus is on achieving their long-term goal of building a multibillion-dollar business.
"In the OTC market, there is high volatility. So people have strategies for making money on the way up or the way down. We are not party to that. The noise we are seeing right now is just noise," Kennedy said.•
Please enable JavaScript to view this content.