Contrary to what they told us on "Cheers," a great neighborhood bar doesn't have to be a place where everybody knows your name. A great neighborhood bar should, however, welcome you into its world and make you feel like it's an extension of your home.

It helps, too, if it's got good soup.

Such is Ralph's Great Divide (743 E. New York St., 637-2192), a storied local joint that evolved from a carriage repair shop into the "Shifferdecker & Shifferdecker" pub into Condon's Corner into The Great Divide and, finally, thanks to its late former owner Ralph Brooks, into its current incarnation.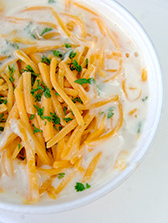 The distinctive Hot Pot Pig soup at Ralph's. (IBJ Photo/ Perry Reichanadter)
But "current" might not be the right word. In a town where too few places feel anchored, Ralph's roots feel deep, even to newcomers. The décor—a combination of nautical, military and musical—is quirky without ever being cutesy. And the menu shows off what Ralph's does best without too many distractions or efforts to appeal to everyone.

The requisite soups are the Hot Pot Aug ($2.99/$3.99) or the Hot Pot Pig ($1 more). Both are cream of potato variations with the latter accented with bacon and hot pepper cheese. I expected the latter to have more kick, but it certainly delivered a cheesy cup of comfort. Ralph's Chili ($2.99/$4.99 with a $1 upcharge—recommended—for cheese and onions) is a worthy variation but, really, you can have decent chili in lots of places. Treat yourself to the soup.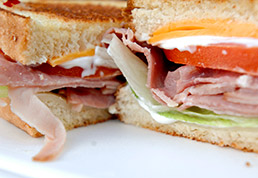 The Divine Miss P is one of Ralph's ham-packed sandwiches. (IBJ Photo/ Perry Reichanadter)
For lunch entrees, there are salads and beef tips and tuna plates, but the meat of the menu consists of ham sandwiches. The queen of these, the Divide Miss 'P' ($8.49), layers a fistful of bourbon-baked ham with both Swiss and American cheeses, lettuce, tomato and mayo on lightly grilled, just-crunchy-enough sourdough bread slices.

The burgers, including a triple-decker Cheeseburger Club ($7.99) and the bacon-topped Swine ($7.99), are strong, too, if less memorable. In addition to standard potato chips, tossed salad or cottage cheese on the side, you can pair your sandwich with Ralph's signature Pea Salad, some Pickled Beets or German Potato Salad. And why wouldn't you?

"The cake," my waitress said at dessert time when she saw my empty plate. Said, not asked.

Not looking for conflict, I welcomed a giant slab of a daily-special Toffee Almond Cake ($4.99). "Maybe I sliced it a little heavy," she said. "It's tough to judge."

I don't think she was very contrite. And after a forkful-by-forkful attack on the monster, I wasn't going to argue. On another visit, the always-available Coconut Cream Pie ($4.99) proved that, at Ralph's, it's foolish to divide dessert from your lunch experience.

Note: Ralph's is closed on Sunday but available for rentals. I attended just such an event years back and let's just say it beats Chuck E. Cheese.•

—Lou Harry

__________

Third in a month-long series of "possessive men" restaurant reviews.