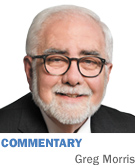 This is a very scary week. I hope everyone has received that message loud and clear. The great sequester deadline has arrived. March 1 is only a few days away. Not since last year's end of the Mayan calendar has there been such focus on a date that could preclude the end of days.
Each day leading up to March 1, the talk will ratchet up another notch warning us about the impending doom headed our way if Congress does not avoid the upcoming automatic government spending cuts. A mandated across-the-board cut of the federal budget in the amount of 2 percent will be devastating to the economy, we're told.
There'll be panic in the streets. Emergency services will be scarce. Kids will be in constant danger and lucky to find a scrap of food. Hundreds of thousands of jobs will be eliminated. The economy will tank overnight and we'll surely fall into a new recession.
Anarchy could rule, and crazed citizens will flood the streets. Zombies could terrorize us. I'm betting people in New York City might even be seen drinking 20-ounce, sugar-laden Mountain Dews while eating French fries cooked in trans-fat oil and packaged in Styrofoam containers. We're in a lot of trouble!
President Obama has warned us. He's been trying to get those mean-spirited Republicans to see the error of their ways. They need to just submit to a balanced approach to deficit reduction and quit fighting it.
Of course, "balance" is code for more tax increases. And when it comes to spending cuts, we're told we really can't afford that right now, but trust us and we'll get to that later. We've got several more trillion to spend to beef up big government and prop up the nanny state.
Nothing can get in the way. Beat the non-believers and obstructionists into submission by executive orders, and the star-struck national media is sure to fall in line and help with the messaging.
My only explanation for all this insanity is that I've slipped through a worm hole somewhere along the line and I'm living in an alternate universe. Everything I thought I knew. Everything I was taught to believe. My entire value system is being challenged by the current administration. These past four years have changed me.
I've always been a strong advocate for compromise and moderation. I've always strongly disliked extremism in one direction or another. I've always believed we should all work together to come up with common-sense solutions to our problems. But this president and this group in office have finally convinced me a different approach is needed today.
Republicans in Congress have been schooled by Obama on a regular basis these past four years and especially of late. He's a master politician. You've got to give him that. He's the best ever in that department. He knows how to work the system, and he's supported by that huge margin of 51 percent of Americans who voted for him and supposedly have given him some sort of mandate.
So, how do you deal with all this? How do you not give up your principles against such long odds? How do you do what you know to be right when you can't get any cooperation from the other side? My answer is you fight like hell, and you don't give in. You don't give an inch to somebody who won't talk with you directly and give you an inch back. When there's no mutual trust, you have to get down in the dirt and fight.
So, getting back to sequestration, this is the time to fight. Republicans will get zero credit for going along with the president again. So, why not do the right thing and let the chips fall where they may? If President Obama won't agree to significant cuts in spending without further tax increases, let the automatic cuts take effect March 1. Then use the upcoming debt-ceiling fight in the next 30 days as leverage for more targeted cuts. If you want to eliminate some tax loopholes along the way, fine. But don't give anything without getting significant cuts in return.
As much as I hate to say it, if the economy has to take a temporary hit while we get back on the right course, so be it. It's time to draw a line in the sand. We'll all be better off in the long run and, more important, our children will have a brighter future.•
__________
Morris is publisher of IBJ. His column appears every other week. To comment on this column, send e-mail to gmorris@ibj.com.
Please enable JavaScript to view this content.