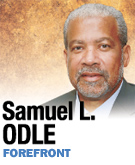 Most days I wish the government would take less of my money and let me use it to save, invest, donate or just spend frivolously. I figure I earned this money, it's mine and I deserve to keep it, right?
But today I have a different view. The citizens have spoken and they have elected a Republican governor and a Republican Legislature. I wish them all the best and want them to have the resources to tackle some of the state's most perplexing and chronic problems. With Indiana sitting on millions in surplus, I say to our governor and Legislature, keep my money and don't send it back to me in a tax rebate.
I have applauded Govs. Whitcomb, Bowen, O'Bannon, Bayh and, most recently, Daniels for taking a fiscally conservative approach to government.
Of course, these efforts are aided by the fact that the Indiana constitution forbids deficit spending. A state government that understands it should take only what it truly requires to provide essential services, leaving as much as realistically possible in the free market, is a true asset to Indiana residents.
So where to start for our new governor and legislative leaders? It's not just about identifying the major issues holding Hoosiers back (education, income and health) but, more important, recognizing that these problems are interrelated and cannot be addressed piecemeal.
Let's invest some of the surplus in quality preschool education. Research proves that earlier schooling makes a notable difference in long-term educational success. I'm realistic that the state might not be able to foot the entire bill but am confident it could rally local support and assure every child a quality preschool seat, and ultimately a good start to education. Taking it a step further and tying this to mandatory kindergarten would be an exceptional step forward.
Sadly, Indiana has a lower household income than many other states—and it's only getting worse. We must get unemployment rates down to pre-recession levels.
Youth, especially those in poor urban and rural areas, need summer job programs to connect with work and education earlier in life. This would also help reduce dropout rates.
I plead with the governor to use some of our surplus to provide incentives for employers to partner with educational institutions. Retrain and hire unemployed and displaced workers in new Indiana jobs. We need a rapid response team to lead this effort and get Indiana back to work.
And we talk incessantly about health. Indiana is not a healthy state in the truest of senses. We must expand Medicaid to insure more Hoosiers.
Research shows that people with health coverage are more concerned about health and pay more attention to becoming healthier. Healthier workers are more productive and use fewer sick days. Uninsured Hoosiers only cost us more when they show up in the emergency rooms.
We have a new CEO in Pence. My hope is that he will not find comfort in staying the course, but will look for bold moves. Many a successful CEO has started the course with big hairy audacious goals (BHAG) to achieve progress.
There are no simple solutions, but like the governor, I believe Hoosiers are resilient. We can move from good to great, but this will require big ideas and shared resources. Education, income and health cannot be addressed in silos.
I'd happily buy the governor some BHAGs with my money. I'm eager to see what kind of CEO we've got.•
__________
Odle is the former chief operating officer of Indiana University Health and CEO of Methodist and University hospitals. Send comments to ibjedit@ibj.com.
Please enable JavaScript to view this content.