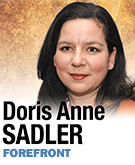 Something important is missing on planning desks of Indianapolis leaders as they contemplate mass transit, waterworks and other big-ticket projects. It is well past time for a strategy for a new criminal justice complex outside of downtown.
The criminal justice system is an intricate structure of many agencies—front-line police, criminal courts, jails, community corrections and probation, to name just a few. They are housed in makeshift spaces in an antiquated City-County Building, an equally antiquated jail, and numerous rented offices around downtown and beyond.
The City-County Building itself, built in 1962, was full by 1970. It also lacks fundamental necessities of a modern court building, like technology infrastructure, conference rooms where juries can meet, and adequate security for people working in and visiting the building.
The jail, built in the early 1970s, fares no better. It was just eight years ago that the jail was under federal court order for overcrowding, prompting a committee of criminal justice agencies to meet weekly to come up with stop-gap measures to stem the wholesale release of inmates onto the streets. They accomplished their immediate goals, but not much has been done since.
You may ask, why the bother? Is crime really a big issue? Murders are down from the 1990s to be sure, but other crimes like assault are up, many by recidivist offenders. Not a nightly news broadcast goes by without the reporting of a shooting or assault. Crime is certainly not decreasing.
And yet, the council and the mayor, in what is heralded as a great compromise, cut the budget of the criminal justice system 5 percent. The probation department alone lost 20 percent of its force.
Community corrections has a wait of a whole year for a bed for a female inmate in need of mental health services.
And just recently, a teen-ager on ankle bracelet monitoring left his home and went on a shooting rampage. He was back in police custody for the shooting before anyone at the monitoring facility knew he was gone.
In truth, our system is no better than it was in the mid-1970s.
Indianapolis is in an exciting growth phase. Downtown has never been better, and the beauty of the Cultural Trail, the economic boon that major sporting events and convention business have brought, and continued development of new buildings make us proud.
But we are on the cusp of failure if we do not begin to address the criminal justice system, including the physical buildings.
If you are not swayed by the impact of crime on growth, what about development of the corridor where the City-County Building and the jail sit? Proposal after proposal have faltered for lack of interest in living and working spaces next to those buildings.
A new criminal justice complex in an area outside of downtown, with plenty of space for the agencies to operate efficiently, with adequate transportation and parking for users, might well be a godsend to an undeveloped property.
This is no small project. Planning for this growing population should have started years ago, identifying potential locations and sources of funding.
But sadly, all we have seen is that can being kicked on down the road. I'm reminded of a former city elected official who said at a council committee hearing on the subject a number of years ago, "There are too many short-term problems to deal with the long-term problems."
From where did he think those short-term problems arose?•
__________
Sadler is a lawyer and former Marion County clerk. Send comments on this column to ibjedit@ibj.com.
Please enable JavaScript to view this content.