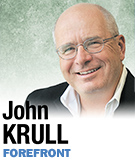 It's hard to tell when the notion began to sink in that too many Americans have forgotten the point of the American Revolution.
Maybe the tipping point came a few days ago when U.S. Rep. Marlin Stutzman, R-Howe, took a page from the GOP leadership's playbook and blasted President Barack Obama for trying to solve the sequester problem he "caused" with tax hikes.
Possibly it was when I flipped through the cable news challenges and saw MSNBC's Rachel Maddow pretty much proclaim that former President George W. Bush was solely responsible for the war in Iraq.
Perhaps it was reading some comments on Facebook in which "friends" attack politicians with whom they disagree in the harshest and most brutal terms.
I've written before about the anger that is loose in the land on the left and the right. That rage is toxic. It has made it almost impossible for us to meet serious challenges in any sort of rational fashion.
But it might not be the worst of our problems.
If there is a common theme to Stutzman's release or Maddow's snark or the Facebook snarls, it is that any government decision or policy is always someone else's fault. The premise is that government—federal, state or local—somehow is alien to us.
Here in the United States, government draws its authority to govern from the will of the people. Government answers to the people it governs in the form of elections and our leaders are drawn from the ranks of the governed.
We are the government.
That reality can be a two-edged sword.
On one side, the fact that our system of government requires the consent of the governed empowers ordinary people—still the most revolutionary political idea in human history. It gives us a chance to control our lives and shape our destinies with a freedom of motion that aristocrats from earlier ages would have envied. It liberates us.
On the other side, it means we have to accept responsibility for government's actions in our nation, our state and our community.
That was the point of the American Revolution. Our ancestors did not rebel against the British simply because they wanted to rebel or stay in a state of perpetual rebellion. They did so because they wanted to form their own government, one that was shaped from their ranks.
To treat the actions of government as if we citizens had no part of them is an almost adolescent-like denial of personal responsibility.
It doesn't matter whether any one of us voted for the person who holds a particular office. We still are bound by the outcome.
And, please spare me the nonsense one hears now on right-wing talk radio—and one heard from the left a few years ago when George W. Bush was in the White House—about any particular president's not being "your president." If you drive on this country's roads, want the police or the fire department to come when you call, or just want the Constitution to protect your rights as a citizen—or if you want to call yourself a citizen—whoever is duly elected to serve in the White House is your president.
The founders of this country didn't revolt because they hated government. They revolted because they wanted to form their own government.
They accomplished that and, in the process, set up the boundaries within which we are supposed to settle our differences as fellow citizens of a free country.
To deny that responsibility is to break faith with the Revolution.•
__________
Krull directs Franklin College's Pulliam School of Journalism, hosts the weekly news program "No Limits" on WFYI-FM 90.1, and is executive director of The Statehouse File. Send comments on this column to ibjedit@ibj.com.
Please enable JavaScript to view this content.