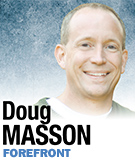 Americans in general and Hoosiers in particular like to see the economy as a morality play. If you are rich, it is because you are hard-working and clever. If you are poor, it is because you are lazy and stupid.
Some of this goes back to our Puritan roots, but it is also a coping mechanism for life's cosmic uncertainties.
"If that person is destitute through no fault of his own, then it could happen to me at any time," the thinking goes.
That prospect is too horrible to internalize. The brain, being remarkably flexible and concerned with maintaining happiness, dutifully creates a filter that keeps you from worrying.
For an individual doing well economically, this filter is useful. Worrying about things beyond your control is not productive.
However, it creates a blind spot when it comes time for lawmakers to develop policies to address structural problems. Where poverty is a function of fault, there are no structural problems inhibiting prosperity, only character flaws we do not wish to encourage.
An economic downturn creates cognitive dissonance that has to be addressed. Suddenly, there are a lot more unemployed and poor people. Did so many people abruptly become lazy and stupid? Seems unlikely.
Still, chalking it up to forces beyond our control makes us uneasy. Because then it could happen to any of us at any time. (It might also force a guy to reassess whether he truly earned everything he has come to possess.) Cognitive dissonance creates fertile ground for narratives that bridge the suddenly widened gap between reality and cherished beliefs.
Enter the skills-gap myth. This narrative acknowledges that the unemployed are not necessarily lazy or stupid, but does so in a way that preserves the illusion of control over one's economic destiny. There are plenty of jobs available, the myth goes; it's just that those jobs require skills that are not readily available. Financial calamity can be avoided or mitigated simply by acquiring the right (albeit usually unspecified) skills. This myth is typically salted with anecdotal stories of employers who have had trouble filling a position or two.
A number of writers and researchers have cast serious doubts on the significance of the skills gap's contribution to unemployment. For example, Barbara Kiviat in The Atlantic noted skepticism by researchers from the Federal Reserve Bank of Chicago, the University of California-Berkley and the Wharton School. A Brookings Institution study suggests that the skills gap has remained relatively constant since the 1960s.
In other words, the skills-gap theory does not explain the rise in economic misfortune any better than the notion that the poor are merely lazy or stupid.
Facts, however, are puny things in the face of an attractive narrative. A measure is moving through the General Assembly to create a Career Council and develop a fancy new database to match education and skills to the demands of the job market. Aside from per diems for council members and a big contract for the database developer, this is unlikely to be a productive effort.
Similarly, Sen. Joe Donnelly is pursuing federal legislation to address the purported skills gap. The skills gap allows lawmakers to "do something" without rocking the boat too much.
If there were a significant skills gap, the free market would address it. Wages would rise to pay for the desired skills; skilled workers would seek the highest pay; and unskilled workers, seeing the high wages, would develop those skills. Supply, demand and wages would eventually reach equilibrium. If wages are not rising, the demand is likely more illusory than real.
We do not need government to subsidize an illusory demand, no matter how soothing the narrative might be to our cherished beliefs.•
__________
Masson is a Lafayette attorney, author of Masson's Blog, and former counsel for the Legislative Services Agency. Send comments on this column to [email protected].
Please enable JavaScript to view this content.