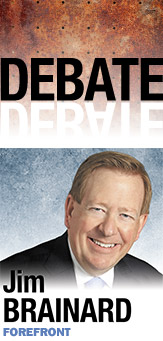 Question: Mayor Greg Ballard, who was elected to a second term in November 2011, has said in recent interviews that he has not closed the door to seeking a third term. Should he run for a third term?
Answer: Why would the mayor of Carmel be weighing in on who runs for mayor of Indianapolis? It is because we are sincere when we talk about regionalism and how we work best when we work together.
Carmel knows that it is stronger when Indianapolis succeeds. Part of why Carmel is able to attract top talent and secure corporate headquarters is because we are adjacent to a world-class capital city in a successful state.
Our businesses and residents benefit from the world-class sports venues and teams that call Indy their home and the national and international sporting events held there as a result. We also benefit from the rich cultural and entertainment options throughout the city, its many performing artists, the zoo and museums.
It is important to Carmel that Indianapolis continues to be a wonderful place to live and work, that it has great public schools and low crime.
Many who are employed in top companies call Carmel home and many who live in Indy and surrounding communities drive to Carmel each day to find employment. It is a symbiotic relationship that has hit a good stride.
That is why Greg Ballard should seek another term, so that the projects and programs that have been started in Indianapolis can continue to grow and have a better chance at success. As the country rises out of the recession, it is important to keep the momentum in Indianapolis going strong.
Ballard's greatest strength has been his ability to attract some of the best individuals from across the country. The new public safety director, Troy Riggs, and deputy mayor for education, Jason Kloth, are two examples.
Progress, however, takes time, and the changes and improvements that are being put forth by the Ballard administration need additional time.
Much of Bill Hudnut's success as mayor of Indianapolis in bringing diverse groups of people together to rebuild downtown into a world-class city came from the continuity resulting from his four terms. Indianapolis drew a lot of strength from many of the projects and programs Hudnut started and were not completed until his third and fourth terms.
Indianapolis and Carmel have worked together well on many economic development and city-planning initiatives, including the regional mass transit plan that is finally gaining momentum. It is projects such as this that will have a positive impact on our region's ability to compete for good jobs well into the future.
Much of what Carmel has achieved over the past decade has been because we have been given successive terms, which has allowed us to take projects through the entire planning, building and growth phases. The faith and trust built around this administration and community is a big part of our success.
We have been able to generate a shared passion for creating a truly unique and globally competitive community in Carmel. I spent time at neighborhood meetings, civic clubs and chamber of commerce meetings learning what the community wanted and needed. Then we worked together to put ideas and words into action and achieved successful results.
I have watched Ballard do the same. It does take time to do it right. I hope Ballard chooses to stand for a third term.•
__________
Brainard, a Republican, is mayor of Carmel. Send comments to ibjedit@ibj.com.
Please enable JavaScript to view this content.