The revenue-hungry Indianapolis Airport Authority is reviewing its entire parking operation, including opening up its valet parking contract in search of new services that would appeal to business travelers and in turn boost the airport's bottom line.
A recently issued request for proposals states that the valet parking area in Indianapolis International's 5,900-space parking garage would be replaced by a "premium" parking area.

Wells
Besides the attendant-assisted valet parking offered today, the request calls for self-parking closer to the sky bridge leading to the terminal "as well as other additional services."
Parking is the authority's second-largest revenue source, generating nearly $40 million a year. Even as passenger traffic slumped in recent years, parking revenue rose 1.3 percent, according to the airport's most recently available financial report.
Valet parking alone generated $2.4 million last year compared with $2 million in 2011, according to the report.
Now, with three years of experience under its belt at the new terminal, airport management wants to see how adding new services could boost revenue.
Michael Wells, president of the Indianapolis Airport Authority board, said harried business travelers might appreciate more options to zip into a space closest to the terminal, for example.
"It's part of a total re-examination of our parking operation," Wells said. "We're really just saying, 'What are the products our customers want?'"
He stopped short of saying the airport would consider privatizing other parking areas, such as short- and long-term parking.
The low-hanging fruit for selling additional services has been the valet parking operation. The current operator of valet parking—Express Valet—has been adding services in recent years, ranging from oil changes to car washes to auto detailing.
Last year, those additional services generated $70,860 in revenue, according to the airport's RFP. The modest number is a signal to the airport authority that there's still a big upside if services are added.
Who will bid?
Express Valet has been operating airport parking on a month-to-month basis since its contract expired Dec. 31. Its co-owner, Hal Darring, CEO of locally based Global Parking System, said he intends to compete for the new, two-year contract.
Darring, who for years also operated a business-class parking lot at the old airport terminal complex, said he has a number of additional services in mind to propose to the airport.
Among his competitors might be his partner in the Express Valet joint venture, Columbus, Ohio-based Parking Solutions Inc., or PSI, a firm that Darring is engaged in a dispute with.
Darring's Global Parking filed a lawsuit recently in federal court alleging that PSI fraudulently induced Global to enter into the airport joint venture based on a false representation that PSI intended to include the firm in parking contract ventures with casinos and state government.
Global alleges PSI surreptitiously solicited parking services at other locations despite an agreement between the two that required notice to the other partner. The suit also takes issue with how PSI allocated profits in the airport joint venture.
PSI has yet to file a response in court.
"PSI requires our joint venture partners to consistently provide excellent services for our customers, because their work is completely reflective of our company. We are steadfast in our commitment to the airport and to the customers we serve," PSI said in a statement.
Alex Gude, an attorney for Global Parking, said Darring "has enjoyed much success with the airport over the past 10 years.
"He hopes to continue to do so for years to come, and plans to continue increasing gross revenue and the quality of the services provided by Global Parking to build upon its reputation as a first class operation," said Gude, of Bingham Greenebaum Doll LLP.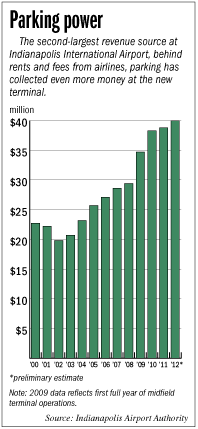 It's unclear how many parking management firms are interested in the airport's premium parking RFP, as proposals aren't due until March 15. The airport will collect a negotiated portion of the revenue from the winning bidder.
Express Valet uses 76 spaces on the third floor of the parking garage. Another 340 spaces on the second floor could be used for valet parking.
Valet parking costs $20 a day. The RFP contemplates a $22 daily rate, although the authority said that number could be less or more depending on demand.
Airports emphasize service
Airports around the country have been looking anew at premium parking options as a way to increase revenue.
For example, Minneapolis-St. Paul International in 2010 launched its "eParkingElite" program that guarantees a prime parking space for members. Membership is $95 a month.
Geared toward frequent travelers, the program gives members access to a special parking section where capacity is managed so that members are ensured a space.
Boston's Logan International also has a guaranteed parking space program, known as Lexus Parking Passport Gold. Besides a monthly fee charged to members, income is generated through Lexus advertisements at the airport lot.
Wells said Indianapolis International officials are also looking at possible revenue-enhancing improvements to the airport's other lots, such as long-term and short-term surface lots.
That the airport authority is trying to squeeze more money from parking isn't surprising given the reductions in passenger traffic in Indianapolis, which fell 2 percent in 2012.
The airport has grown protective of such revenue, even launching a court battle last year to stop Ohio-based Chavez Properties from building a $15 million premium parking facility at the AmeriPlex business park four miles from the terminal entrance.
Having lost a fight in Marion Superior Court, the authority in November took the case to the Indiana Court of Appeals, where the airport's appellate brief was due Feb. 27.
The authority had swapped parcels of land with AmeriPlex developers years ago and said it was never the expectation that the business park would be zoned to allow parking that could compete with the airport.
Decatur Township leaders have accused the airport of overreaching and say the township needs additional tax revenue from private businesses such as the proposed Chavez lot. The airport, as a municipal entity, is exempt from paying taxes to the township.•
Please enable JavaScript to view this content.