This month, we're limiting our dining reviews to farm-to-table restaurants—which is perhaps a misnomer since just about every dining establishment features food that began at a farm and ended at a table. These, however, are ones that have taken the shortest route from point A to point B.

Consider 1913 Restaurant (40 West Jackson Place, 396-3623), which opened late last year in the Omni Severin Hotel. It not only features Fischer Farm beef and Gunthrop Farm bacon, but also offers ketchup and mustard from local ingredients before pouring them into mini-jars (I didn't check if they had "Ball" written on the bottom).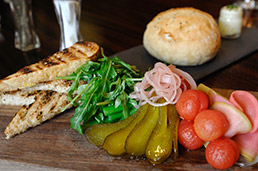 The Pickled and Jarred appetizer at 1913 includes locally grown tomatoes and pickles. (IBJ Photo/ Perry Reichanadter)
Like any other trend, though, the bottom line has to be: Is it worth it? Does the pedigree of the product translate into a superior experience?

In the case of 1913, the answer is: Yes.

Oh, there are atmospheric issues that haven't quite been worked out. And some inconsistency with the service. Our server offered no menu guidance for first-timers and mistranslated, "We'll need another minute," into, "Come back in 12." But what he did bring was across-the-board wonderful—literally, since our appetizers arrived on actual boards.

Specifically, those were the Pickled and Jarred ($9) and the Cured and Preserved ($12), both eminently suitable for table sharing. The first featured Seckler Bread and Butter Pickles, Preserved Sweet 100's Cherry Tomatoes, and crunchy Salt 7 Pepper Beans with a hint of lemon and tarragon. On the meat side, the C&P offering included an assortment from Smoking Goose Meatery—Natural Duck Prosciutto (with an orange accent), Dodge City Salami (pork with fennel pollen and pink peppercorn), and Stagberry Salami. Both featured grilled bread slices as potential platforms. Also from the appetizer lineup came Indiana Onion Pie ($10), a quiche-like combo of caramelized onion, egg custard (cage-free, of course), and Harrison Bourbon Maple.

For lunch, the entrees focus on sandwiches: Shaved Root Beer Ham ($13) with Fair Oaks Cheddar on Butter Bread and the Breaded Pork Loin Sandwich ($14). In both cases, it would have been nice if we had been notified that the promised kettle chips had been replaced by fries. We quickly got over it, though—in fact, after one bite.

Both admittedly pricy sandwiches offered decided upgrades on the standard between-bread offerings elsewhere, the former memorable for its hint of root beer sweetness, the latter for its crisp, thin batter.

Of course, locals may balk at the signature local sandwich because it doesn't even have the guts to use the term "tenderloin."•

–Lou Harry

__________

First in a month-long series of farm-to-table restaurant reviews.