A bill to create a rapid-transit system in central Indiana is headed for the crucible of the Senate, where skeptics stand ready to tear apart the proposal's $1.3 billion financing plan.
The toughest questions will come from a few Marion County senators. Lobbyists say the local delegation is key to lining up votes in the rest of the chamber.
"It's going to be critical that we build support with all of the central Indiana delegation," Greater Indianapolis Chamber of Commerce lobbyist Mark Fisher said. The chamber, along with Indianapolis Mayor Greg Ballard and top elected officials in Hamilton County, is lobbying in favor of the bill.
 

Rep. Brent Waltz questions the initiative's cost projections.
While transit advocates focused on the House, which passed the bill 56-39 on Feb. 25, Republican Sens. Brent Waltz and Mike Young conducted independent research that questions Central Indiana Transit Initiative projections. (The initiative is a project of Central Indiana Corporate Partnership.)
Waltz said he supports mass transit in general but wants to make sure voters in his south-side district don't end up paying for a system that leaves them underserved.
"Being in the investment banking business, I see projections every day of companies that are going to do great. Of course, not all of them do," said Waltz, who owns The Baron Group.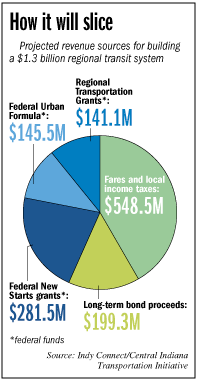 The bill itself doesn't deal with financing details, routes or modes of transit. It would allow Indianapolis and surrounding suburbs to create a metropolitan transit district. Local officials also could ask voters to approve an income tax, as much as 0.3 percent, to fund the district. If a referendum passes, local officials would still have to act to adopt the tax.
So far, only Marion and Hamilton counties are planning ballot questions, which would appear in the 2014 general election, at the earliest.
The transit bill has three of eight Marion County senators in its corner. Patricia Miller, a Republican who represents the southeast corner of the county, is the sponsor, and Republican Jim Merritt and Democrat Greg Taylor are co-sponsors.
Merritt said he supports allowing the advisory referendum and hasn't delved into details of the transit plan.
"I think the local government ought to be dealing with the details," he said.
Noblesville Republican Luke Kenley also is a co-sponsor, but he shares Waltz's skepticism about the transit plan.
"I don't know if they're doing the right thing or not," he said.
Kenley said he's willing to put transit in the hands of local officials.
"I think it's likely we'll give them some kind of taxing authority," he said.
The potential tax increase worries Republican Scott Schneider, who noted that the 0.3-percent income tax would be a substantial increase over Hamilton County's 1 percent and Marion County's 1.62 percent. If some Marion County residents flee, he said, "That just increases the burden on people who don't have the resources to move out of the county."
Green line
The $1.3 billion plan would double local bus service, add express routes to the suburbs, and build five rapid-transit lines over 10 years.
Four of the rapid transit lines would be bus rapid transit, which runs buses over existing streets with fixed stops and raised platforms. The fifth, the green line, has long been envisioned as a light-rail line using the old Nickle Plate Railroad bed.
 
Gifford
Transit plan skeptics have zeroed in on the green line's cost, $483.2 million. That's more than four times the $102.8 million estimated for building the north-south red line, which would be nearly as long.
Planners have recently begun considering bus rapid transit for the green line, said Ron Gifford, executive director of the transit initiative. But regardless of the mode of transportation, building that line would be more expensive because it requires prepping a 22-mile historic rail bed to carry modern buses or rail cars, he said. The main capital costs on the other routes would be vehicles and improvements such as the stop platforms.
The green line gets a lot of attention because it's been studied longer, but the 10-year plan shows its construction beginning in 2020, after the red line and east-west blue line.
Waltz doubts that rapid-transit service would reach all corners of Marion County within 10 years, as the current plan seems to promise. He declined to share details of his own projections but said they don't include federal funds, whereas the transit initiative counts on 43 percent of the $1.3 billion coming from federal sources.
"I think government gets in trouble when we adopt a 'build it and someone else will pay for it' kind of strategy," Waltz said.
Without federal sources, Waltz predicts there would be enough money to expand bus service and build the green line. By his estimation, the red line wouldn't be finished until 2038.
Transit backers point out that none of the routes or time lines would be finalized without more public input.
"If there are questions, they really should be coming from the taxpayers who are paying for it," said Christine Altman, a Hamilton County commissioner and president of the Central Indiana Regional Transit Authority.
Although some areas would get rapid-transit service later, she argued, "The increase in the tax base in Marion County because of those investments will lift everyone's boat."
Funding sources
Gifford said he's fielded a lot of questions about why it would be safe to assume federal grants will be available.
"In the last three to four years, the legislation in Congress that has passed with strong bipartisan support is the federal transportation bill," he said. The latest bill allocates more money to transit, he said.
Transit backers argue that their assumptions are extremely conservative. The projected federal dollars represent a match of 30 percent, though the norm is 50 percent, Gifford noted.
The plan assumes no increase from the current $8 million a year in state funding for mass-transit operations. It also assumes zero increase in Marion County property tax revenue, which would provide $25.4 million a year for operations. (Marion County property taxes currently support the IndyG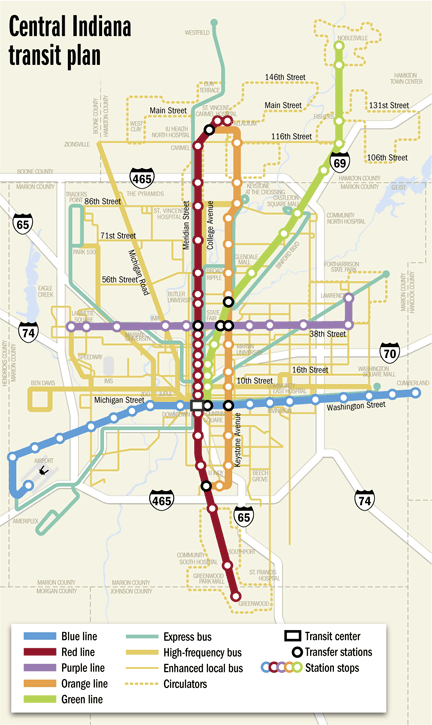 o bus system, which would be absorbed into the transit district.)
Total annual operating revenue is projected at $186.6 million with most of that, $102.4 million, coming from the transit tax. Annual operating expenses are projected at $174.6 million. Expenses are intended to be less than revenue, so that the surplus can be allocated to a reserve fund.
Gifford said assumptions are equally conservative on the cost side. Construction costs reflect the national average.
"That includes the communities who screwed up," he said.
The same goes for operating expenses. Although IndyGo's expenses are below average, he said, "We've not assumed the transit agency will be the most efficient transit agency in America."
The model for central Indiana's planning, Gifford said, is Charlotte, N.C., which built a light-rail system supported by local sales tax revenue that opened in November 2007. The following year, the city's huge banking industry cratered, and sales tax revenue plummeted 25 percent.
The transit system used operating balances, extended the construction time line, and cut back on service, Gifford said. Now, Charlotte is working on a 10-mile light-rail extension, he said. "They were able to do that because they had planned accordingly."
Gifford said he's looking forward to walking senators through the detailed plan. He knows that not everyone will be convinced of its soundness, and the bill doesn't require them to be.
"There are a lot of senators who philosophically believe in local control," Gifford said. "I'm going to be making that argument a lot in the next few weeks."•
Please enable JavaScript to view this content.