Ice Miller LLP started its energy and utilities practice in late 2011, intent on scooping up more business on the regulatory end of the utility lawyering spectrum.
While building out such a practice takes time—rivals like Faegre Baker Daniels have been fixtures at the Indiana Utility Regulatory Commission for years—Ice Miller has already emerged as one of the few women-led utility bars in the Midwest.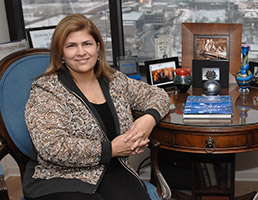 Kay Pashos has spent 25 years in the utility industry, and says it is "always interesting, always changing." (IBJ Photo/ Perry Reichanadter)
No fewer than six women hold key positions at the practice. That includes the recent hiring of former IURC administrative law judge Angela Weber.
Not the least of these is Kay Pashos, former president of PSI Energy, now known as Duke Energy Indiana. She is one of few utility lawyers who has served as the top executive of a utility, a distinction that could give Ice an edge in growing the energy-utility practice.
"It's people like that who understand the business issues," said Melissa Proffitt Reese, who helped create and co-chairs the energy/utilities group at Ice. "Kay has made those kinds of decisions. That makes her unique."
Neither Pashos nor Ice may have gotten to this point had the Northwestern University School of Law graduate not embraced an unfamiliar role at PSI. To that extent, her experience might be instructive for those unnerved about challenges ahead in their careers.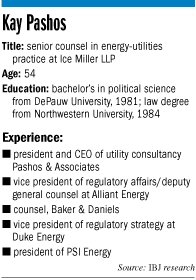 The two-year stint as president of the electric utility from 2004 to 2006 "really took me out of my comfort zone," admitted Pashos, 54.
Suddenly, the behind-the-scenes attorney was forced into a more public role—giving speeches, dealing directly with big customer groups, and exploring economic development opportunities for the utility.
She is, after all, a career lawyer in utility regulation, and a mild-mannered one at that. Being the public face of a giant utility isn't a natural fit for her.
"It was a good opportunity for me to stretch a bit," she added. "I'm an introvert that is happy to be writing legal briefs."
Douglas Esamann, a PSI colleague at the time who today is president of Plainfield-based Duke Energy Indiana, had those career discussions with Pashos before she took the president's role.
"She would you tell that she's still an introvert," Esamann said.
"That [role] was probably one of the biggest things she was able to accomplish and tackle … That was part of her development. She embraced it."
Her career could have been relatively one-dimensional had she not taken the chance and stepped into the business side of the utility as its president.
Pashos, who attended North Central High School, graduated from DePauw University with a degree in political science.
After graduating from Northwestern with a law degree in 1984, she worked as an attorney for a series of utilities, including PSI, Cinergy and Duke. In 2008, she worked 14 months at Baker & Daniels, before heading to Madison, Wis., for a role as vice president of regulatory affairs and deputy general counsel at Alliant Energy.
That role also entailed more of the executive/business operations side of the utility.
"It was kind of my dream job," she said.
But the distance from Indianapolis was a challenge. Her husband, Neal Steinbart, is a lawyer in municipal finance at Barnes & Thornburg. They have two children, one in college and one in high school.
In 2010, she left Alliant and launched her own utility consulting business, Pashos & Associates. It was enjoyable being an entrepreneur, she said, but not having to deal with IT and employee issues.
Ice Miller snapped her up soon after as it sought a seasoned lawyer for its expanding utility practice.
The electric utility industry, in particular, is facing all kinds of challenges, such as tightening federal regulations on pollutants and on greenhouse gas emissions. Utilities increasingly are turning to renewable energy, such as wind, which presents its own issues.
"The industry for the 25 years I've been involved is always interesting, always changing," Pashos said.
Representing utility interests over the years has put Pashos at odds with counsel for customer groups, including Todd Richardson, a director in the utilities practice of Lewis & Kappes.
"I'd give her high marks on being experienced, intelligent and she handles herself well in the hearing room," said Richardson, who represents industrial customers of utilities.
Ice is achieving a critical mass of attorneys on the regulatory side, Reese said. The firm is already doing some legal work for Duke on the Edwardsport coal gasification project, for example.
"Now is our time to build this into a sustainable practice," Pashos said. "I think we have that bench strength now."•
Please enable JavaScript to view this content.