For you, it might be Kurt Cobain. Or Gene Autry. Or Jimi Hendrix.
For me, it's Woody Guthrie.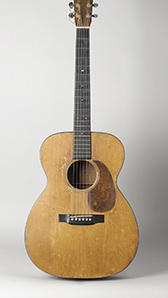 Woody Guthrie's Martin 000-18 acoustic guitar. (Photos courtesy of EMP Museum, Seattle, WA)
While I could look at most of the instruments on display at the new "Guitars: Roundups to Rockers" exhibition at the Eiteljorg Museum of American Indians and Western Art (through Aug. 4) with cool detachment—admiring the workmanship, acknowledging influential designs, and imagining what went into their gashes and chips—it was Guthrie's Martin 000-18 acoustic guitar, among the more than 100 guitars on display, that stopped me.
I didn't need an iPod and ear buds to hear "Pastures of Plenty" or "The Biggest Thing That Man Has Ever Done" or "The Ballad of Pretty Boy Floyd." Those songs were playing on their own in my mind's jukebox as the inanimate guitar rested on its stand. For an exhibition such as this, what's on display is only a part of the experience. You bring the rest with you.
If you've ever been to Cleveland's Rock and Roll Hall of Fame, you know the feeling. Even if you've never plucked a string and don't know a fingerboard from a whammy bar, you carry with you a staggering number of guitar tunes, most loaded with some kind of association.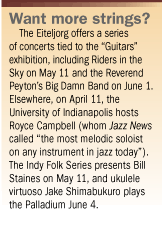 Esthetic objectivity may have nothing to do with it. The sight of, say, Buddy Holly's Gibson acoustic with its tooled-leather cover (an attempt by the young singer to ape a similar cover used by Elvis Presley) or Johnny Cash's Martin D-21 or Jerry Garcia's Doug Irwin "Tiger" can stir up a host of feelings.
At the Eiteljorg show—drawn from both museums and the private collections of Jim Irsay, Vince Gill and others—you don't need to rely entirely on your memory. To fully enjoy the experience—and to make it last three times as long—it's best to pick up a programmed iPad on the way in that allows you to listen to music at just about every display. That means your look at Garcia's guitar is enhanced with a "Truckin'" recording from Deer Creek Music Center. And Duane Allman's Gibson SG slide guitar (loaned by Graham Nash) has "Statesboro Blues" as its soundtrack.
Fragment of a Sunburst Fender Stratocaster electric guitar formerly owned by Jimi Hendrix. (Photos courtesy of EMP Museum, Seattle, WA)
Less storied instruments are available for hands-on play. Quickie lessons are provided at select times. And don't be surprised if touring musicians pop by the Eiteljorg to pay tribute to their influences.
"Guitars" isn't an arbitrary addition to the Eiteljorg. The exhibition makes a strong case for the development of the guitar in the American West, not only for its country/cowboy roots but in such innovators as Charlie Christian, an Oklahoman who is credited as the first to use the electric guitar as a lead instrument in jazz bands. But the museum doesn't push too hard in trying to find connections. And it shouldn't have to. This exhibition speaks—musically—for itself.
My only disappointment? There wasn't a mirror at the back of the Woody Guthrie case so that I could see the other side of the instrument where Guthrie had carved "This machine kills Fascists."•
__________
 This column appears weekly. Send information on upcoming arts and entertainment events to lharry@ibj.com.
Please enable JavaScript to view this content.