Is farm-to-table automatically better food than food that took a more circuitous path?
Not necessarily. Chefs, cooks and waitstaff are still required for dining alchemy. And all came together with barely a glitch at our recent visit to The Local Eatery and Pub (14655 Gray Road, Westfield, 218-3786).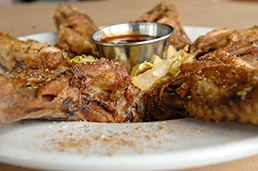 Duck wings are among The Locals' farm-to-table offerings. (IBJ Photo/ Perry Reichanadter)
The Local isn't subtle about its farm-to-table nature: A list of its providers is written out—along with the kids' menu and dessert choices—on a gigantic board that covers the back wall in the high-ceilinged restaurant.
That's how you find out, for instance, that the guest of honor in the lamb burger used to reside at Viking Lamb in Morristown. Or that goat cheese took a direct route from Greenville to the Local's kitchen. Or that the duck came from Gunthorp Farms in LaGrange.
Not that we wanted to think about a brace of happy, frolicking fowl while devouring the Duck Wings ($11), an ample supply of which were crispy fried and given a kick with Chinese five-spice. Hoisin BBQ sauce added moisture and, if you looked below the sauce dish, a dab of house kim chi added another flavor dimension.
The abundance of veggies and beans in the Vegetarian Black Bean Chili ($3.99/$4.95) tilted it far to the stew side of the soup/stew range, making it as manageable by fork as by spoon. A Basket of Cajun Tater Tots ($4.95) was abundant and addictive. And a Side Salad ($1.50 upgrade over fries or tots sides) satisfied the beet-lover in me.
Fresh-ground specialty burgers switch out not only the meat, but also the dressing. The Elk Burger, for instance, gets blue cheese and roasted garlic. The Bison Burger comes dressed in a fresh horseradish cream sauce. And the Veggie Beat Burger has walnuts in the mix. I went with a Lamb Burger ($13). Moist but not massive, it combined nicely with tatziki, feta cheese and a bit of rosemary tomato jam.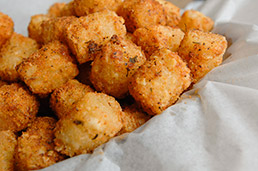 Tater tots get a Cajun dusting. (IBJ Photo/ Perry Reichanadter)
The Mac-n-Cheese ($10) justified being about eight times the cost of a boxed version by dressing its cavatopi pasta with a surprisingly subtle white cheddar sauce sprinkled with bacon lardons. That's pork fat, folks, and may it forever make you say "yum."
Which raises a point: Farm-to-table items, thanks to their lack of preservatives, may be more healthful than their equivalents elsewhere, but that doesn't make them healthful.
As such, The Local's dessert lineup is as decadent as you'll find in a mall outlier. Beignets ($6) were deep fried, caked in sugar, and tasted like a wonderful collision between New Orleans and the Indiana State Fair. Our waitress—and one that happened to be passing by—was effusive about the Blueberry Buttermilk Cream Pie ($5.50) but the overhype—and an under-baked crust—led to our being a bit underwhelmed.
But the Orange Julius—yes, I said Orange Julius ($3.95)—in the drink lineup certainly brought back memories. I had to close my eyes, since no effort seemed to be made to color-correct the grayish drink. But that's all good. From this notable local restaurant, I wouldn't have expected any different.•
—Lou Harry
__________
Second in a month-long series of farm-to-table restaurant reviews.
Please enable JavaScript to view this content.