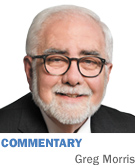 I know we had snow last week, but spring is almost here. Daylight saving time is just kicking in. We've been cooped up much of this winter, and it feels like it's way past time to get up, get outside and MOVE! That means we're about to see more people outside taking advantage of our parks and greenways, something that far too many of us take for granted.
With that in mind, I want to talk about Indy Parks and the Indy Parks Foundation, which just had its annual fundraiser, the IPL Mayor's Lunch for Parks, at the downtown Marriott.
Wonderfully emceed by former Indianapolis Colts executive Tom Zupancic, and with an inspirational talk by WNBA MVP Tamika Catchings of our champion Indiana Fever, the event made me think about the importance of our parks and the parks foundation.
We start at a bit of a disadvantage compared with our peer cities when it comes to parks. City government spends about $43 per person on our parks, compared with about $93 per person in cities of similar size. And only about 4.8 percent of our total land is devoted to parks, compared with 8.3 percent in cities of similar density.
So the parks foundation, which raises money to supplement city funding, has an important role to play. It generates millions of dollars each year that go toward such things as buying more park land and improving the parks we have. The results speak volumes. It has secured more than 200 acres of new park land since 2002.
When I talk about Indy Parks, I wonder how many readers know the full scope of what makes up the city of Indianapolis Department of Parks and Recreation. Here's a quick look:
• 11,000 acres of park land
• 207 parks
• 60 miles of greenway trails
• 21 aquatic facilities
• 16 family centers
• 13 golf courses
• 15 spray grounds
• four nature centers
• four disc golf courses
• four dog parks
• and a mountain bike trail, ice rink, conservatory and sunken gardens, arts center, Velodrome, skate park and BMX complex.
None of this would be possible without the financial help of many sponsors and donors. I would love to mention them all; I can't do that, but I can start with a great example: Lilly Endowment awarded a $10 million grant this past December, the largest single gift in the parks foundation's history, to be used over the next three years to renovate and upgrade 13 Indy parks.
IPL has been a longtime financial supporter of Indy Parks. And it's involved in a new partnership with the parks foundation, the city and Pacers Sports & Entertainment that has pledged $1 million to upgrade and improve outdoor basketball courts in parks throughout Indianapolis over the next five years. The first court scheduled to be renovated will be named Tamika's Court. Based on a tweet I read from Mayor Ballard, I believe the number of courts to be renovated is 30.
There are a lot of great things happening at Indy Parks. I think Kelly Pfledderer, chairman of the parks foundation board, said it best: "Parks boost the vitality of our city, reduce crime, improve public health, enhance community, and support the overall quality of life in Indianapolis. A healthy parks system equals a healthy city."
If you can donate your time, talent or treasure, I know the folks at the parks foundation would be grateful for any contribution. You don't have to have millions to give to make a difference.•
__________
Morris is publisher of IBJ. His column appears every other week. To comment on this column, send e-mail to gmorris@ibj.com.
Please enable JavaScript to view this content.