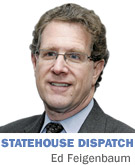 We learned just over a year ago that the veteran House fiscal leadership would be a vestige of the past when the 2013 session began.
Eighty years of legislative service would come to a close with the retirements of fiscal leaders Jeff Espich, R-Uniondale, and Bill Crawford, D-Indianapolis, two respected public servants who had traded leadership of the House Committee on Ways and Means for most of this century.
While no one panicked over the unusual loss of such House fiscal seniority on both sides of the aisle, speculation abounded over who would fill the leadership void. Then more uncertainty arose when the respective caucus leaders reached outside the traditional comfort zone for the replacements.
Yes, it is true that House Committee on Ways and Means Chairman Tim Brown, R-Crawfordsville, and the panel's ranking Democrat, Greg Porter, D-Indianapolis, are new to their fiscal leadership posts—and, perhaps more important, new to Ways and Means. But they are both savvy legislative veterans who have chaired other committees and know their way around the fiscal process.
If you look behind the curtain as to why the two were selected for their posts, you should have even fewer doubts as to the ability of the House to hold its ground.
While more cynical Statehouse observers will whisper that Brown became chairman because House Speaker Brian Bosma, R-Indianapolis, was reluctant to choose among at least four members of the committee who had jockeyed to move up the fiscal food chain, you have to take Bosma at his word on his thought process here.
Brown, a practicing physician and one-time treasurer for the Indiana State Medical Association, most recently chaired the House Committee on Public Health. Bosma said in choosing him that Brown's medical background affords him a deep understanding of the health care universe—"something that will certainly be taking center stage as the state factors in the effects of the new Affordable Care Act," Bosma said of the big-buck budget-buster issue. Brown also has not only worked effectively with all the philosophical elements of his own party, but plays well with Democrats.
Porter, a longtime chairman or top Democrat on the House Committee on Education, has run point for his party on education matters since the 1990s. Few can match what he brings to the table in understanding the impact of vouchers and charter schools on traditional public education and its financing.
Brown took office in 1994 and Porter in 1992. Senate Committee on Appropriations Chairman Luke Kenley, R-Noblesville—the most influential fiscal lawmaker—joined the Senate in 1992. The other key panel in the budget process, the Senate Committee on Tax and Fiscal Policy, is chaired by Sen. Brandt Hershman, R-Buck Creek, who was elected in 2000.
The respective Democratic ranking members of the Senate panels, Karen Tallian, D-Portage, and Tim Skinner, D-Terre Haute, were elected in 2004 and 2002.
So don't be distracted by shiny seniority numbers. Geography may be of greater importance than the absolute number of years of legislative seniority.
A central Indiana axis—if not attitude—dominates the 2013 budget process.
Gone is the strong northeastern Indiana influence, and Tallian is the sole participant hailing from anywhere north of the Crawfordsville-Noblesville latitude. Skinner is the southernmost member among the six. And among the half-dozen, only Hershman lives in a rural area (and his home is in Tippecanoe County).
Geography doesn't play a major role in the Medicaid and tax-cut debates. But urban-rural balance does matter for education and its funding, as well as for how infrastructure dollars are collected and disbursed. It also could affect a key gambling bill and gambling-tax distribution measure, since none of the budget-shapers live in districts hosting riverboat casinos or racinos.
The mass transit bill, of major importance to Republican mayors in central Indiana and inner-city Democratic lawmakers, is also a geographic issue.
So don't expect lack of fiscal expertise will result in the House's being "rolled" by the Senate in budget talks. But geographic and (relatively) urban or suburban homogeneity could prove decisive on some issues.•
__________
Feigenbaum publishes Indiana Legislative Insight. His column appears weekly while the General Assembly is in session. He can be reached at edf@ingrouponline.com.
Please enable JavaScript to view this content.