A few days into the position, the new CEO of the Indianapolis Symphony Orchestra is knee-deep in the challenges facing nearly every major orchestra in the U.S.—turning deficits into profits, attracting new patrons and increasing the endowment, all while maintaining the quality of the product onstage.
Gary Ginstling, who started Monday, also has some pressing personnel issues. He must fill several upper-management vacancies to have any hope of achieving his goals. Ginstling needs to hire a vice president of finance, vice president of development and a vice president operations/general manager.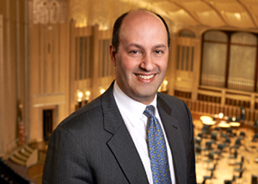 Ginstling faced similar financial stresses in his most recent position as general manager of The Cleveland Orchestra, and helped to reduce its losses.
Formerly the general manager of The Cleveland Orchestra, Ginstling replaces Simon Crookall, who abruptly resigned from the ISO in February 2012. Jacquelyn Groth, the vice president of finance, served as interim until the ISO hired Ginstling, then announced her resignation soon after his appointment.
Ginstling is taking over an organization that is trying to address four years of deficits and a shrinking endowment. Musicians in October conceded $11.5 million in pay and benefits over the next five years to end a lockout. And the ISO plans to almost double its annual fundraising by 2017, from $6.5 million to $12.6 million.
In Cleveland, the orchestra finished $2.7 million in the red on a $47.5 million budget in its 2010-2011 fiscal year, but was able to reduce that loss to $183,000 on a $48.4 million budget in the following fiscal year.
The IBJ sat down with Ginstling to discuss his plans for the ISO and the challenges he faces.
IBJ: When you were in Cleveland, were you able to identify a way to go beyond that basic model [of selling concert season subscriptions] to actually sustain the organization down the road?
GINSTLING: Well, there were a number of strategies we put in place in Cleveland that I'm not suggesting are relevant for the ISO, but there were a number of strategies that the board adopted in Cleveland to address just that issue. You could basically think of two key strategies. The first was to expand the orchestra's activities outside of Cleveland, which was untapped demand for the orchestra, and rejuvenate the business in Cleveland and rethink how it could be more things to more people within the community. Cleveland had historically been an orchestra that just did 30 weeks of subscription concerts, and people would come and that was the model.
IBJ: When you say "expand outside of Cleveland," how big of a footprint are you talking about?
GINSTLING: This was a strategy identified in the early 2000s by the board. And probably the flagship element of that was developing a new residency in Miami, where a number of key trustees were based. We now have a four-week concert season in Miami, and we have a board that's based in Miami, and they fundraise for the orchestra in Miami and sell a four-concert subscription season in Miami. … Now to make clear, I'm not saying that makes sense for the ISO, but what it does, I think, is indicate how can you take advantage of new opportunities and think outside the box to create a foundation for going forward.
IBJ: You've known you were coming here for several weeks now. Have you been able to think about what job No. 1 is going to be for you?
GINSTLING: It's very early, and I don't want to call this a vision yet. To me some of the key things we really do need to focus on are, to sum it up: access, innovate and quality.
By "access," I mean making the orchestra as accessible to as many people as possible, both allowing people to come to the Hilbert Circle Theatre and getting the orchestra out into the community to reach new segments of the community, who might not be a natural audience. And access means thinking about pricing, thinking about how you schedule concerts, how you package them together, thinking about what you put on stage, all those things.
"Quality," I think, goes hand-in-hand because it all starts with great music. I believe audiences respond to great music, performed greatly. That to me is something you can never let up on. I think Krzysztof Urbanski, who's the music director here, is firmly connected to that. I think he is leading the ISO in a terrific direction, and to me that goes hand-in-hand with getting people excited about the orchestra.
And the ISO has a great record of innovating—the Time for Three residency, the new relationship with New Amsterdam Records, which I think is real exciting—and that was encouraging for me because it tells me the organization is willing to experiment and try new things and see if it allows you to reach new audiences.
IBJ: You have some key positions that are vacant. How quickly are you going to have to fill them?
GINSTLING: Certainly, priority No. 1 is recruiting for a lot of the key vacant positions and putting together the senior team and getting the right people in place as quickly as possible. There's nothing more important than that.
IBJ: One of the concerns that has emerged as of late, especially during the contract negotiations, was the retention of the talent. People were worried that performers were going to leave. How do you keep those people here and keep them happy without overextending your budget?
GINSTLING: There's an overriding need to be vigilant about the finances. That's absolutely critical. There's no doubt that will always be front of mind. But I believe the way to retain musicians and the way to retain employees is to create a positive working environment that's artistically gratifying. They're doing great things, they're playing great music, the community is responding, the organization is moving in a positive direction, and they have a good quality of life here.
That might not be enough to retain every single member of the orchestra, and it might not be enough to retain every single member of the staff. But we have to work within our means.
IBJ: With having to deal with the deficits and fiscal difficulty [in Cleveland], was there anything systematic or formulaic that you could apply to what's happening here or in any other orchestra in the country?
GINSTLING: I guess the most systematic thing I would say is that you're not going to solve a situation only with cutting expenses, and you're not going to solve it only by reducing your artistic ambition. It has to be a healthy balance. Music comes first. It starts with what you're putting onstage. It has to be something you believe in, you can get people excited about, and commit to raising the money to do it, then wrapping the expenses around that.
IBJ: One of the key pillars is going to be fundraising strategy. That's going to explode in the next few years if everything goes according to plan. In Cleveland or your previous career experiences, have you ever been involved with such an aggressive strategy?
GINSTLING: I think it's fair to say that each orchestra that I've worked with has had very similarly aggressive fundraising goals.
And again, I think it all starts with the music and what you're doing artistically. You get people involved and excited. That's when the doors open philanthropically, and I look forward to doing that and making the case for why the ISO deserves people's support. … You have to make the case, and it's getting increasingly competitive to make that case, because there are many worthy organizations and many worthy causes out there.
Please enable JavaScript to view this content.