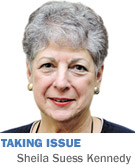 I continue to be amazed by the pundits and politicians who insist that eviscerating government programs will save money. Evidently, they think that if we refuse to pay for services through our taxes, we will magically no longer need those services.
By the logic prominently on display at the General Assembly and in Congress, if there is no Medicaid, poor people won't get sick. If we don't hire more police officers, criminals will thoughtfully refrain from illegal activities. Paving fewer streets, picking up less garbage, delaying repair of bridges and other infrastructure will save money and demonstrate fiscal prudence.
The problem is, there is no such thing as a free lunch.
Indiana can refuse to expand Medicaid, but poor people will continue to get sick, and continue to receive care at the local emergency room, where providing that care is significantly more expensive. Those higher costs will then be paid by all of us, through federal reimbursements to the hospitals providing indigent care and higher private insurance premiums.
When municipal taxes can't support an adequate police force, neighborhoods and businesses will contract with private police to provide the necessary protection. There are already more private police in America than there are public officers. It's costly to contract with private companies for security, and poorer neighborhoods can't afford to pony up the extra dollars, so in these circumstances we incur both economic and social equity costs. And when crime rates rise, so do the premiums we all pay for our homeowner's insurance.
When government doesn't pay to fill chuckholes, private citizens end up paying to have their cars repaired. Homes and businesses abutting dilapidated streets and eroding sidewalks lose market value.
Speaking of market value, homes in neighborhoods served by good, adequately financed public schools have significantly higher resale values than those in neighborhoods without such schools, because potential buyers in underserved neighborhoods have to factor in the cost of private education.
We can subsidize decent public transportation through our tax dollars, or we can buy that extra car to get to work. In addition to the car payments, gas, maintenance and automobile insurance, we'll end up paying a price for the environmental degradation.
Cities can allocate a modest portion of our property tax payments to have our garbage picked up once a week, or we can individually spend a bit more to contract with a private scavenger service; if the government doesn't provide that service, the garbage still needs to be collected.
The point is, refusing to pay for services through our tax dollars does not make our need for those services disappear. And in more cases than our politicians like to concede, collective provision of services is less costly and more efficient.
Gov. Pence wants the General Assembly to cut taxes—a reduction that would inevitably require a corresponding reduction in services. To the extent that citizens continue to need those services, what the governor is proposing would not reduce the amount of money citizens will pay. It would simply shift the fiscal burden, while obscuring the costs, and in many cases, increasing them.
If the state is providing services that are duplicative or unnecessary, the governor should identify them. In the alternative, he should specify where cuts will be made, programs discontinued or services provided to fewer people, so we can see whom the tax cuts are benefiting and whom they are penalizing.
We're entitled to see what those "cuts" would cost us.•
__________
Kennedy is a professor of law and public policy at the School of Public and Environmental Affairs at IUPUI. She blogs regularly at www.sheilakennedy.net. She can be reached at skennedy@ibj.com. Send comments on this column to ibjedit@ibj.com.
Please enable JavaScript to view this content.