Tameka Drake has an MBA, a promising business idea and a problem: She doesn't know how to navigate the many obstacles standing between her and success.
"It's overwhelming," the 34-year-old Indianapolis resident said of the seemingly endless to-do list she's facing as a new entrepreneur. "I feel like I have this huge mountain to climb, and I'm wearing sandals."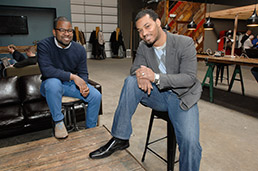 Derrick Braziel, left, and Jaron Garrett hope the Dreamapolis experience helps startups secure funding. (IBJ photo/Perry Reichanadter)
Not for long. Drake's Pourfect Pour LLC is one of five startups chosen to participate in the inaugural Dreamapolis Accelerator, a 12-week program that aims to help high-potential urban businesses get up to speed quickly.
A new enterprise itself, Indianapolis-based Dreamapolis is finalizing the details of its first class, expected to kick off next month. The crash course in entrepreneurship will culminate with so-called "Demo Day" presentations to potential investors.
Co-founder Jaron Garrett hopes the result is a cohort of companies prepared to seek—and secure—outside funding.

"We will take them through the early-stage, proof-of-concept [process] and into the marketplace in a very short period of time," said Garrett, a serial entrepreneur at 29. "We'll find out quickly if an idea works or not."
Viable businesses should be able to build traction during their three months at Dreamapolis, which will provide seed funding, office space, business training and access to mentors in exchange for a small stake in the participating startups.
And Garrett said the inevitable stumbles are just as valuable: "They either fail fast and pivot, or they die."
Accelerators have proven to be effective in other communities. Seed-DB, a global database of such programs, lists 154 accelerators worldwide that have helped nearly 2,500 companies raise $1.8 billion—and create more than 6,500 jobs.
But they've been slow to catch on in Indiana. Local entrepreneur-turned-mentor-turned-venture-capitalist Kristian Andersen said that, although the region has built a thriving startup ecosystem without an accelerator, Dreamapolis' urban focus will be a welcome addition.
"I looked around, and I don't know if anyone else is singularly focused on that," said Andersen, who mentors entrepreneurs in three other U.S. accelerators and will work with Dreamapolis' first class. "It's a terrific idea."
Indianapolis is home to countless would-be business owners who aren't the stereotypical young, affluent suburbanites that found startups, he said. An accelerator targeting non-traditional entrepreneurs might inspire them to give it a try.
"We have this whole population inside [Interstate] 465 that has largely been ignored. There's a big disconnect," he said. "This is a chance to really move the needle, to lift people out of poverty through pure entrepreneurship."
That's the kind of difference Dreamapolis' founders hope to make. Derrick Braziel set out to "change the world" when he graduated from Wittenburg University, working with a series of community organizations before he connected with Garrett. The men discovered a common interest in empowering entrepreneurs, and decided to collaborate.
"We're better off working together, leveraging our networks and other resources," said Braziel, 27. "He's the business guy. I'm the pretty face."
Garrett certainly has been there and done that—beginning at age 12, when he made and sold jewelry. As an Arsenal Tech high school student, he booked gigs for his rapper friends. At Indiana State University, he started a theatrical production company.
Since then, he has operated an indoor advertising company, started (and sold) a painting firm, worked in college admissions, and owned part of a telecommunications company. He also tried real estate development, most notably proposing a $30 million apartment tower for downtown Indianapolis.
That 2007 project never materialized—he couldn't raise enough money fast enough to buy the blighted properties he aimed to redevelop—but Garrett said even his missteps have been valuable.
"When everything goes right, you don't learn much," he said. "It's hard to know what worked. But I appreciate every single one of my failures. They helped me make the decisions I do today."
Among his lessons: Prepare well and be cautious, but take action. And know your numbers inside and out. "Entrepreneurs can find themselves in a lot of trouble and not understand why."
Garrett should know. He also works as a contract consultant for the not-for-profit Business Ownership Initiative, helping others navigate the local startup landscape. That experience led him to conclude Indianapolis could use an accelerator.
"We have a lot of good things going on here, but they're not really connected," he said. "We have startups and funders, but there's a big gap in between. Entrepreneurs don't know how to get from point A to point B."
BOI Executive Director Julie Grice also sees the need.
"This has the makings of something that will really benefit Indianapolis," she said, citing the business training in particular. "Jaron is adding a new component to an already robust system, which is great. Strength builds on strength."
Pourfect Pour's Drake is looking to the accelerator to help flesh out her idea for an online service that would allow clients to hire bartenders and buy booze for special events. A full-time employee of Wishard Hospital's Midtown Mental Health clinic who tends bar on the side, Drake said she always has wanted to start her own business but didn't know where to start—until she was slinging drinks at one of Dreamapolis' "PitchFeast" events.
Held monthly, the public dinners provide a forum for entrepreneurs to pitch their business ideas. Attendees vote for the most-promising concepts, and the winner gets the money collected at the door. It's not a huge amount, given the nominal $5 admission fee, but any funding is welcome.
Accelerator members get a bigger boost: $10,000 in seed funding in addition to the other services. Drake said the money was a big draw, along with the chance to pitch her plans to a roomful of investors at the end of the program.
"I would love to start my business in the black," she said. "I don't know many entrepreneurs that can do that."
Investors also appreciate accelerators, which take pains to prepare startups to raise capital—and deliver the prequalified prospects to potential funders.
"Dreamapolis will bring a bunch of high-quality deals to the table," said Andersen, co-founder of Indianapolis-based VC firm Gravity Ventures.
"The fact that they have gone through the program is an implicit endorsement of the worthiness of the business. If they've survived the accelerator, spent time with 20 mentors, tested their products, and found customers—all before talking to us—we're probably looking at a quality deal."
Venture capital firms are "always looking for good, fundable companies," Andersen said. "Sometimes they're hard to come by."•
 
Please enable JavaScript to view this content.