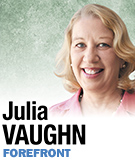 In these pages last fall, I complained about gubernatorial candidate Mike Pence playing politics with the implementation of federal health reform. Unfortunately, now that he's been elected governor, the game-playing continues and uninsured Hoosiers continue to be pawns in Pence's game with federal officials.
But the uninsured are not the only ones affected by this debate and it's important that all Hoosiers, even those of us currently insured and not low-income, recognize that we have a lot to lose by not expanding Medicaid to more working poor citizens.
The Indiana Hospital Association estimates that using Medicaid to expand coverage to approximately 406,000 Hoosiers making less than 133 percent of the federal poverty level would cost the state $503 million but inject a tremendous amount of money into the state economy.
According to its study, up to $3.4 billion in economic activity could be generated through a Medicaid expansion, providing 30,000 Hoosiers with good-paying jobs and providing state and local government additional annual revenue of $108 million.
Medicaid expansion would also directly benefit some Hoosier employers who will face penalties if they choose to not provide health insurance to their employees under the Affordable Care Act.
A study by Jackson Hewitt Tax Service found that Medicaid expansion would help employers avoid paying a penalty of up to $3,000 per employee under the "shared responsibility payment" section of the law. These penalties could cost Indiana employers up to $54 million annually, and they can be avoided simply by expanding coverage to low-wage workers via Medicaid.
Expanding Medicaid will also address the huge problem of uncompensated care that threatens the economic viability of hospitals across Indiana and burdens those of us with insurance through shifting the cost of that unpaid care to paying customers. A 2011 study by the Urban Institute found that uncompensated care in Indiana could be reduced $345 million a year with an expanded Medicaid program, resulting in lower insurance premiums for individuals and families.
All Hoosiers should be asking why the governor is ignoring this tremendous opportunity.
Pence insists that the Healthy Indiana Plan be used for expansion instead of Medicaid, but that plan is not feasible for several reasons.
First, it's unlikely the feds will allow the plan to be the expansion vehicle because it has annual and lifetime caps on coverage; that's not allowed under federal law.
Second, the plan does not provide dental, vision or maternity benefits, which is required for Medicaid. Fixing these flaws will increase the program's bottom line tremendously.
But there's an even bigger problem. According to the state's own actuary, using the plan to expand Medicaid will cost 44 percent more than a traditional Medicaid expansion, even before expensive alterations that would be required under the ACA.
Obviously, this argument is not really about providing health coverage that is affordable to individuals and the state. It's about ideology and playing to the conservative base, with an eye on future elections.
Yet, Republican governors in Ohio, Arizona, New Jersey and even Florida—the state that brought the case against the Medicaid expansion to the Supreme Court—have recognized the enormous economic benefits of expanding traditional Medicaid and are choosing that route.
Pence may hate government-financed health care, but the bottom line is that expanding Medicaid is the most efficient way to provide coverage for low-income Hoosiers while helping providers and the rest of us, too.•
__________
Vaughn is policy director for Common Cause/Indiana, a nonpartisan citizens lobbying organization that works for open, honest and accountable government. Send comments on this column to ibjedit@ibj.com.
Please enable JavaScript to view this content.