ExactTarget Inc.'s strong position in digital marketing has made the Indianapolis company a tempting acquisition target for Salesforce.com and other tech-industry suitors, Wall Street analysts believe.
ExactTarget could fetch a premium up to 80 percent above the current share price of about $23 if the company agreed to a sale, they say. Salesforce.com, the San Francisco developer of cloud-based consumer relationship management software, is considered a leading contender.

The email expertise of CEO Scott Dorsey's 13-year-old company makes it attractive.
An ExactTarget spokesman said he would not comment on "rumors and speculation" when asked whether the company was talking to any prospective buyers, or if it was even open to such a deal.
But some who follow the company closely see a high likelihood of a sale. Some of the software industry's largest players could benefit from buying out ExactTarget, which produces software for Internet-based marketing, especially via email.
"Salesforce needs a strong email marketing capability, and they don't have that right now," said Nathan Schneiderman, a senior research analyst for Roth Capital Partners of Newport Beach, Calif.
Further setting itself up as a buyout target, the 1,600-employee company in October tapped proceeds from its $161 million initial public offering seven months earlier to buy Pardot LLC, which produces software marketers use for online campaigns, and iGoDigital, which developed a system that recommends retail purchases to online shoppers.
Remarks that Salesforce.com CEO Marc Benioff made in a Feb. 28 conference call with investors stoked analysts' suspicion that the company is interested in ExactTarget—or at least a company a lot like ExactTarget.
During the phone call, Benioff mapped out an aggressive acquisition strategy—building on its purchase of more than two dozen companies since it began in 1999.
"And I don't think we should limit ourselves in any way," he said. "We have to look at B2B marketing, B2C marketing; we have to look at email marketing; we have to look at all aspects of social marketing."
In other words, Salesforce.com wants what ExactTarget does well.
A spokeswoman for Salesforce.com declined to comment for this story.
All-in-one
There are two basic routes Salesforce.com could take, Schneiderman said.
One would involve buying ExactTarget: Salesforce.com could take the all-in-one approach and buy the company to address all its focus areas of online marketing.
"Email is basically the workhorse of interactive marketing," said Schneiderman, who covers both companies. "ExactTarget is the email-oriented vendor out there."
Or Salesforce.com could pick up several small, private companies to fill in the holes.
Whichever way it goes, Schneiderman said, Salesforce.com needs to build its marketing services.
A January 2012 report by Gartner Inc. predicted chief marketing officers, by 2017, would spend more on information technology than chief information officers—the actual IT executives.
Benioff cited the forecast last year when Salesforce.com finished two acquisitions of social-media marketing firms: Radian6 and Buddy Media, both of which monitor trends for marketers.
With stronger footing in the growing area of social media marketing, ExactTarget would fill in a lot of remaining needs for the more firmly established email marketing, Schneiderman said.
Email mattering more
ExactTarget expects demand to drive up its revenue at least 26 percent in 2013 after adjustments.
The company reported record-setting $292.3 million revenue for 2012. But profits have eluded it since 2008.
Last year ended with a $21 million loss. And management projects similar results for 2013, citing ongoing investments in research and development, sales and marketing, and mergers and acquisitions.
Despite the red ink, analysts favor the company: All 12 covering the firm have "buy" or "strong buy" recommendations. And they project an average of $31.67 per share within a year, which would be 37-percent growth for a company whose stock has traded mostly sideways since its IPO.
Shares surged from an initial $19 to $25.11 closing price during ExactTarget's Wall Street debut a year ago. Shares traded for about $23 at the end of March.
In a note to investors, Tom Ernst Jr., an analyst for Deutsche Bank Markets Research, said ExactTarget's recent investments have balanced its presence in both the business-to-business and business-to-consumer markets.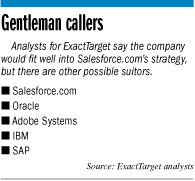 "We believe that ExactTarget is well positioned in this natural evolution of the market and can be the independent leader" in delivering its type of services, Ernst wrote as part of his explanation for a $39-a-share forecast.
And the company is gaining market share quicker than its competitors, Robert Breza, an analyst at RBC Capitals Markets, told Bloomberg News in October.
"Marketing is going to get more and more important, especially as technology evolves," Breza said.
Investors could see a bigger gain from a buyout.
Analysts said Salesforce.com could pay a premium ranging from 20 percent to 80 percent above the current trading price, which implies a market value of $1.6 billion.
Other suitors
Salesforce.com, with $3 billion in revenue last year and a $25 billion market value, could face competition from similar-size or larger companies in a pursuit of ExactTarget, analysts said.
Jeff Houston, an analyst for Barrington Research Associates Inc., listed Adobe Systems ($4.4 billion revenue), SAP ($20 billion revenue) and IBM ($104.5 billion) all as companies that, logically, might want ExactTarget.
"A lot of traditional software companies have been acquiring [software-as-a-service] companies," Houston said.
In an otherwise slow year for technology mergers and acquisitions, SaaS- and cloud-based companies was the leading category, accounting for 15 percent of more than $114 billion in deals, according to a Feb. 11 report from Ernst & Young.
Some of the biggest deals included SAP's buying Ariba Inc. for $4.5 billion and Oracle Corp.'s buying Taleo Corp. for a little more than $2 billion.
Analysts say Oracle, which had $37 billion in revenue last year, is another company that has been buying others to develop its marketing base.
Salesforce.com hasn't shied away from showing its intensity in pursuing acquisitions.
"We're going to be aggressive," Benioff said in February. "We need to look at everything. And I think that we made some smart moves by buying the two leaders [Radian6 and Buddy Media]. And we've bought other companies, too."
Later, he added: "I think we've purchased two dozen companies. And they've been small companies and large companies. The best way to predict the future of our acquisition strategy is to look at the past. And because we've bought small and big, we're going to probably buy small and big."
'Impetus' to stay
Should Salesforce.com or anyone else try to acquire ExactTarget—the company would not say whether that was even up for discussion—Indianapolis officials plan to do what they can to retain jobs.
The City-County Council on March 25 approved the first of several resolutions that would create a high-tech district around ExactTarget's offices. If approved, the district would abate 10 years' worth of property taxes on IT equipment the company plans to install as part of a $35 million expansion.
The payoff, the resolution's supporters believe, is that income tax revenue from the 500 new jobs coming from the expansion will produce double the $3.3 million in forgiven property taxes.
"We'd be crazy to not utilize those tools to anchor the company in Indianapolis," said City-County Councilor Zach Adamson, one of the resolution's sponsors.
And should a company buy out ExactTarget?
"It doesn't guarantee that they would stay, but it does provide them an impetus," he said. "I'm sure California or San Francisco would be eagerly able to offer them some sort of incentive to move there. But they already have the property here. They already have the workers here."•
Please enable JavaScript to view this content.