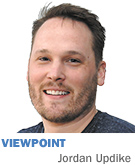 It has been a discouraging year in local politics. Several baby boomers have apologized to me for the state of affairs they are handing over to my generation, and each conversation has made clear the deep and fundamental issues Indiana's next leaders will face.
In no subject am I more concerned about central Indiana's ability to develop into a world-class metropolitan area than in the matter of mass transit.
Regardless of their side of the aisle, millennials overwhelmingly back the development of a mass transit system. You have doubtless heard the many arguments in support of transit: the massive economic development benefits; the racial, age and socioeconomic equality value; the connectivity; the ecological and anti-brain-drain advantages.
Data to support using transit for these reasons and more is well documented and staggering.
For me and for many millennials, transit is a quality-of-life issue. A year and a half ago, I moved downtown and, in doing so, made a commitment to live the car-free lifestyle. Now, this is considered normal behavior in the transit-friendly places I've lived before—St. Louis and San Diego—where commuting options are reliable and plentiful.
In Indianapolis, people asked me if I was crazy when they learned I was willingly selling my vehicles. In 2012 alone, accounting for higher bus, taxi and (perhaps no surprise) shoe costs, I saved more than $8,000. I haven't paid for a gallon of gas in a year, and with both work and nightlife walking distance from home, perhaps "crazy" shouldn't be the first word that comes to mind.
Some opponents of transit refer to transit users as "those people" with its not-so-subtle class and race implications, but transit-using young folks are a diverse group of lawyers, entrepreneurs and professionals who choose transit for lifestyle reasons.
No matter the argument for supporting transit, my point is this: If we are going to build a sustainable Hoosier state, the people who are going to have to live in its future are clamoring for sensible transportation options.
House Bill 1011 creates a governance structure and a referendum so the people who will be sharing the economic burden of the transit system get to decide for ourselves whether this is an investment we want to make.
Despite decades of analysis on the subject, the bill was sentenced back to a study committee. Its fate is in limbo. Perhaps this buys time to compromise on a passable bill; more likely, the bill has been committed to a slow summer death.
Need I remind you that this bill determines whether we citizens vote on this issue ourselves? Sigh.
Did you catch that? In a political climate where "tax" has become a poisonous word (despite the enormous subsidies for road transportation we collectively pay), we've given up on asking for a governmental lead on a reasonable solution, accepted responsibility to decide for ourselves, and still this bill is caught up in politics.
If there were better words to express how I feel about the absurdity of the situation, I would use them. Many fellow millennials share my frustration.
So, lawmakers, if you'll allow me the privilege of speaking on behalf of my age demographic for a few lines:
Please, please, please!
Stop playing politics with our future, and let us cast a ballot for our own destiny.•
__________
Updike is a native Hoosier, downtown resident and avid transit user. Send comments on this column to [email protected].
Please enable JavaScript to view this content.