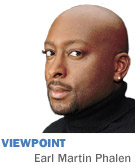 The world has changed so much over the past century due to the rapid pace of invention and new knowledge. Systems and processes are constantly updated to serve our realities.
But public education has changed little. We still hold on to the agrarian calendar that sends our students home for 2-1/2 months to help care for their parents' farms. We still structure the school day using bells, originally meant to mimic the bells used in Industrial Revolution-era factories. We still place our teachers at the front of the classroom in front of a chalkboard (or perhaps Smart Board) and students are still at their desks, primarily sitting quietly and listening.
If our schools are to prepare the next generation to be productive members of our increasingly technologically based global society, shouldn't our schools adapt?
The George and Veronica Phalen Leadership Academies, a new network of charter schools in Indianapolis, will join a movement asking how to build schools that prepare students for the 21st century.
To succeed, students must be creative and work with others to solve complex problems. These skills aren't easily taught using traditions of a century ago.
If we want our schools to prepare children for the age of innovation, we must look at how the traditions of schooling are actually getting in our way.
PLA will use computer-based learning to supplement the indispensable work of great teachers in the classroom in what is known as blended learning. PLA builds on the best practices of high-performing blended-learning schools to create a unique model that organizes classrooms around "pods," enabling students to rotate among groups focused on computer-based instruction, small-group learning with their teacher, and individual or pair work, based on individual student needs.
Under this model, scholar-to-teacher ratios will be 11-to-1 for almost half the school day. And by combining the power of great teachers and the one-on-one learning enabled by technology, PLA is able to serve more scholars with one fewer teacher per grade, resulting in cost savings.
These cost savings allow PLA to offer an extended day (eight hours versus the traditional 6-1/2), an extended calendar (225 days versus the traditional 180), a diverse set of enrichment experiences, and additional resources to train and support teachers.
The use of blended learning at Phalen Leadership Academies will give great teachers time to work in small groups with scholars to provide one-on-one feedback. It also lets teachers focus more on developing those essential higher-order skills, like critical thinking and problem solving.
And blended learning offers an additional way to provide engaging and challenging instruction for students, while supplying detailed and relevant data for teachers on how their scholars are progressing. Everyone in the equation—from scholars to teachers to administrators—is able to do what they do best more efficiently.
The blended-learning approach has proved effective in helping students learn. At Rocketship Schools, a California-based charter organization, 93 percent of students achieve proficiency in math and 75 percent achieve proficiency in English/language arts. This bests California's statewide averages by 29 and 17 percentage points, respectively.
These numbers are even more impressive when you consider that 90 percent of Rocketship's students qualify for free and reduced-price lunch and more than 65 percent are English-language learners.
The first of the 10 Phalen Leadership Academies will open in August. The schools eventually will serve over 10,000 children annually in Indiana.•
__________
Phalen is CEO of Indianapolis–based George and Veronica Phalen Leadership Academies. He lives in Boston. Send comments on this column to ibjedit@ibj.com.
Please enable JavaScript to view this content.