Retail developers these days are less likely to be able to count on banks to lease or acquire outlots, a reflection of the rapid shift in financial transactions to online.
Many banks in Indiana and across the nation are thinning their existing branch networks and thinking twice about opening new locations. As a result, bank offices are less likely to be a fixture in existing and newly built shopping centers.
The pullback follows years of unfettered expansion. Federal Deposit Insurance Corp. data show the number of branches in Indiana grew 20 percent from 2000 to 2009, when they peaked at 2,107. But by 2011, the latest year available, they had slipped to 2,056, the lowest level since 2006.

"With the prominence of online banking, they don't need to be on every street corner anymore," said Carmel-based banking consultant Mike Renninger.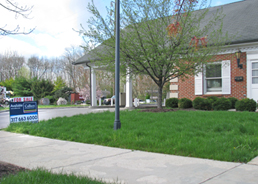 PNC Bank, in the midst of closing 200 branches nationwide, is asking $650,000 for this branch building at 390 S. Main St. in Zionsville. (IBJ file photo)
Online banking now accounts for 53 percent of banking transactions compared with 14 percent for in-branch visits, according to research from Southfield, Mich.-based AlixPartners.
Also leading to branch closures are bank mergers and banks' quest to reduce costs to offset new expenses stemming from the Dodd-Frank Act, the financial reform legislation passed by Congress in 2010.
In August, Evansville-based Old National Bancorp said it was closing nine Indianapolis-area branches and consolidating them into nearby offices.
Old National, the largest bank headquartered in Indiana, also said it was closing and consolidating nine other branches around the state.
Ohio-based KeyCorp, another big player in the Indianapolis market, announced in July that it might close 5 percent of its U.S. branches in the next 18 months. KeyCorp has 1,059 branches and is targeting $150 million to $200 million in savings.

And in March, PNC Financial Services Group Inc. said it will close 200 branches this year, including six in Indiana. Only one of those is in the Indianapolis area. Customer accounts at the 5716 Crawfordsville Road branch will be transferred to the PNC branch at 5300 Crawfordsville Road on June 21, PNC said.

Earlier this year, PNC also closed its longtime branch at 390 S. Main St. in downtown Zionsville. The Pittsburgh-based bank has another branch on West Oak Street on the west side of the village.

PNC is asking $650,000 for the Zionsville property and is marketing it with broker Tom Osborne of Colliers International, according to a PNC listing of bank-owned properties for sale.

Zionsville town officials have expressed interest in purchasing it for redevelopment. Osborne didn't return calls from IBJ seeking comment on interest from potential buyers.

But the town might have the best shot at buying the parcel, as competing banks are seldom attracted to vacant branches.

The reasons: The bank selling a branch typically has another location within a short driving distance, and loyal customers tend to follow. And smaller towns in particular might not to support more than one bank, Renninger said.

Small-town bank branches often serve as a gathering place and are viewed as a symbol of a community's economic health. But they may be in the most danger, as banks follow population growth to larger cities.

"My belief is that these small towns will lose the one or two branches they have in the market," Renninger said. "The bigger branches have already figured it out and left."

The unsettling trend is familiar to Joe DeHaven, president and CEO of the Indiana Bankers Association, who said the topic surfaced over dinner recently with a handful of bankers in Washington, D.C.

Fewer branches translate into less interaction with customers and a greater chance of losing the opportunity to sell additional services beyond checking and savings accounts.

"The problem is, how do you get a bigger share of their wallet if you don't see them?" DeHaven said.

Whatever the answer might be, it's unlikely to involve traditional brick-and-more buildings, he predicted, as "there's going to have to be a real compelling reason to put a branch there."