Indianapolis' pro soccer team doesn't make its on-field debut until April 2014, but organizers on Thursday unveiled the club's name: Indy Eleven.
Team owner Ersal Ozdemir announced the moniker and premiered the teams colors—red, white and navy blue—during an afternoon rally on Monument Circle that drew about 300 people. Mayor Greg Ballard and Indiana Soccer Association President Murray Clark attended the event.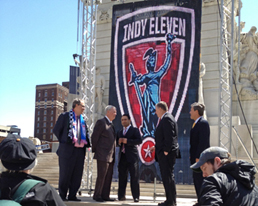 Team executives unveiled the club's name and colors during Thursday's rally. (IBJ Photo/ Anthony Schoettle)
"We believe the inspiration and meaning behind the Indy Eleven identity will serve as a just reward for [fans'] loyalty for years to come," said Ozdemir, president of local development firm Keystone Group.
The team will compete in the North American Soccer League, the top feeder league to Major League Soccer. IBJ first reported that Indianapolis soccer boosters were working on bringing a NASL franchise to the city; Ozdemir officially announced his plans in January.
The numerical name makes reference to the number of players soccer teams place on the field, but also has subtextual references to Indiana history.
Specifically, the number 11 recalls Indiana's 11th Regiment in the Civil War, which posted significant contributions under the command of Hoosier-born Col. Lew Wallace. Wallace went on to author the literary classic "Ben Hur."  
The symbolism extends to Indianapolis iconography as well. According to the team, the color scheme and the circled star at the point of the team's crest echo that of the civic flag of Indianapolis, which will celebrate its 50th anniversary in May.
The checkered background of the crest might at first seem a nod to Indianapolis' longtime auto-racing culture, but also pays tribute to the Brickyard Battalion, the supporters group that proved vital in helping establish the team in Indianapolis.
 
Please enable JavaScript to view this content.