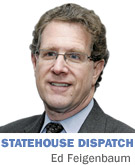 Your money and property are largely safe now, because the General Assembly should have adjourned its 2013 session—a full work day early—as you read this. Solons should be leaving Indianapolis without dipping into your pocketbook.
There was other good news:
A Republican legislative super-majority and GOP governor did not trample the rights of the Democratic minority, lawmakers mainly got along with one another, leaders acted as adults and treated rank-and-file members from both parties with respect, Democrats realized they actually liked the new Republican governor, and some good public policy was shaped in bipartisan fashion.
Indeed, some of the more contentious policy issues of the session, including the proposed Leucadia coal gasification plant in Rockport, live table games at the racinos, comprehensive criminal code revision, restrictions on ephedrine sales, Common Core school standards, a mass transit referendum for central Indiana counties, mandatory armed school safety officers, and assistance for the Indianapolis Motor Speedway all saw coalitions of legislators from both sides on each side of the issues.
There was even some GOP pushback against Gov. Mike Pence on Medicaid expansion until he finally put his foot down with the backing of leadership. And this might be the one issue where lawmakers look back and wish they had intervened more.
When partisanship did rear its head—Indianapolis Democrats charged a GOP "power grab" in negotiations over changes in Marion County government structure—it was not disruptive.
Republican legislative leaders also avoided highlighting it by not treating it with favoritism or by bending over backward in the other direction to obsequiously placate Democrats, as some thought they did at the session's outset by removing the same-sex marriage ban amendment from consideration pending U.S. Supreme Court action.
Even the signature 10-percent individual income tax rate cut sought by Pence saw some Democratic support. While some of that Democratic help might have in part been directed at tweaking the GOP super-majority, Democrats saw a tax cut tsunami headed toward them.
Faced with the tax-cut wave (and regardless of their preference to restore education and human services funding cuts), they favored an individual income tax cut to expanding the corporate income tax cuts or accelerating the inheritance tax phaseout.
While business and the general public were largely skeptical of the gubernatorial tax cut's value, a budget that affords $525 million in annual overall tax relief (some scheduled, some new)—while still pumping up some education funding and propping up some other areas, including road funding—has to be heartening to Hoosiers.
Expect to hear elected officials boast about $1 billion-plus of assorted tax relief across the biennium for Hoosiers—likely a record for any single Hoosier budget.
Of course, the final week of the session was filled with the usual intrigue over what would emerge in what form (some were surprised by revisiting school voucher expansion and land-based gambling discussions), but leaders were seemingly much more willing to talk about what they expected from individual conference committees than in years past.
Lawyers and fiscal analysts will no doubt spend the first week of May poring over every section, sentence and word of every bill resulting from a conference committee report to find unanticipated content or unforeseen result of the language. But for the most part, they will find themselves engaged in a fruitless exercise.
A sense of greater transparency pervaded the process in late April, at least with respect to the framework, if not the nitty-gritty details, on key bills.
Following a dictate imposed when he first wielded the leadership gavel in 2005, House Speaker Brian Bosma ensured members would have 24 hours to review the final budget, a common-sense reform that is more appreciated by everyone involved than even he realizes.
What some found reassuring was that—pending review—nothing seemed to have sprung fully formed late in the week from Zeus' brow, a phenomenon that was more the rule than the exception in past sessions when new issues somehow emerged.
The bottom line: More Hoosiers of all stripes departed from this session with a positive sense of accomplishment than in a long time.•
__________
Feigenbaum publishes Indiana Legislative Insight. His column appears weekly while the General Assembly is in session. He can be reached at edf@ingrouponline.com.
Please enable JavaScript to view this content.