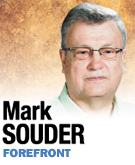 Early in the season in baseball, you can be leading the league in home runs because you can really hit a fastball, even if you can't hit a curveball. But in the major leagues, soon all you will see is curveballs. You either adjust or you are gone.
The same thing happens in politics. Sometimes we refer to it this way: If you see a scab, pick it until it bleeds. And if your opponent doesn't stop the bleeding, he is done.
Politicians who survive adjust, but sometimes the same events cause skilled politicians to adjust differently.
In 2012, the Republicans had a near sweep in the Indiana elections, with veto-proof majorities in both branches of the Legislature, not to mention winning seven of the nine congressional seats. Yet if you step back and analyze what has gone on in this legislative session, you can see that three of Indiana's top politicians read those elections very differently.
For Republicans, there were two curveballs: Why did we lose what appeared to be a slam-dunk U.S. Senate seat? And, how did Tony Bennett lose a down ballot position to someone basically unknown to most voters?
While Joe Donnelly ran a nearly perfect race, he needed help from Republicans, which was graciously given. Glenda Ritz's campaign is retroactively praised but she remains nearly invisible statewide.
Gov. Mike Pence, Senate Majority Leader David Long and House Speaker Brian Bosma clearly read the adjustments needed very differently. To no surprise, all read the needed changes within their personal styles. It is not about being conservative; all of them are—when compared to, say, San Francisco liberals—pretty right-wing guys. And none of the approaches are wrong. I, and most politicians, have used all three at one time or another. The skill is picking the right one for the right situation.
Pence is among the conservatives who feel the message delivered by Mourdock and Bennett—strong conservatism on taxes, budget and education—was correct but delivered poorly. It was not conservatism with a smile. It was Mourdock "inflicting pain" and representing God as unforgiving rather than loving. Bennett would often say, "This is going to hurt a little bit," like the doctor who believed that if medicine tasted good, it would not work.
So the governor hasn't adjusted much on issues, but chose the path that reflects who he most is.
Bosma believed voters were sending a message. He didn't believe it was a rejection; if it was, why did Republicans pile up such margins? Rather, Hoosiers asked for a "time out" to see if the changes already passed work on school reform, social issues, tax cuts and the budget.
Bosma is the pragmatist conservative who feels that Mourdock and Bennett pushed the envelope too far. So the speaker chose the path that reflects who he most is.
Long believed the voters weren't saying "time out" or "charge ahead but with a smile and better explanations." Long believed voters want to advance, but more slowly. He is not a "my way or the highway" style of leader, but has deeper conservative views than most realize. So the leader chose the path that reflects who he most is.
Ultimately, governing requires some compromise. For the next year, pundits will discuss who surrendered the most in the negotiations trying to determine the relative power strengths of each.
The truth is that the power blend gets results more likely to be accepted by voters.•
__________
Souder, a former business owner and Republican representative of the 4th Congressional District, is a political commentator living in Fort Wayne. Send comments to ibjedit@ibj.com.
Please enable JavaScript to view this content.