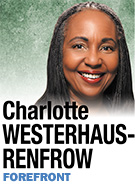 My children grew up in an autocratic household with non-negotiable expectations. "You will make your bed before you go to school." "You will respect your elders and teachers." And the biggest mandate, "You will go to college."
No questions. No excuses. No exceptions.
Understandably, I was recently taken aback when my 5-year-old grandson asked me, "Grandma, did you go to college?"
"Well, of course I did," I answered and quickly added, "And so will you."
Apparently, my grandson is not impressed with tried-and-true autocracy. He retorted, "No, I will not because I heard on TV that most black guys go to prison and not to college."
Let me assure you that no child, including my grandson, wants to go to prison. However, no child should believe that going to prison is more of a probability than going to college based on gender and skin color.
My grandson is not alone in repeating, and more alarmingly, perhaps believing what was first disseminated in 2001 by the Justice Policy Institute report "Cellblocks or Classrooms." The report contained a sentence that is still widely quoted: "Nearly a third more African-American men are incarcerated than in higher education."
This dogma perpetrates a distorted image of African-American males that affects how the public and the educational systems perceive and act toward them. To more alarm, this negative impression is absorbed in the minds of young African-American boys and hurts how they see themselves now and in the future.
Truth be told, there are now more African-American men in college than in prison.
A recent Howard University review of college enrollment data found that African-American male college enrollment increased 108.5 percent from 2001 to 2011. Their representation in higher education is 5 percent, which is about proportional to their 5.5-percent representation of the U.S. adult population.
There are 1.4 million African-American men in college and 840,000 in prison.
However, as much as I would like to feel better about this trend, it's not yet time to pop the bubbly. Why? Because the 10 colleges in America that enroll the most African-American males consist of three for-profit colleges, four community colleges and three public four-year institutions. So while African-American males are overrepresented in for-profit and community colleges, they are grossly underrepresented in selective universities.
Many education-reform-minded leaders, including Gov. Pence, make a persuasive case that not every Indiana high school student is college-bound, and improving vocational education for Indiana students will increase private-sector employment and economic growth.
Yet it is also true that all Hoosier youth, especially underrepresented African-American males, should be afforded the best education to prepare the willing and able to enroll and graduate from state universities and colleges.
There are examples of area high schools that rightfully boast about their college preparatory curriculums and expectations that enhance their graduates' admission into the best universities in the country. For example, Fishers High School's advanced placement website states that "all college bound students should complete at least one AP course prior to graduation."
However, majorities of African-American students in metro Indianapolis attend schools offering too few AP courses.
So the good news is that another myth about African-American males bites the dust.
However, it is vital that young African-American males are afforded outstanding educational environments with adequate resources, highly qualified teachers, and college preparatory curriculums with the goal to increase their enrollment and success in the most selective universities and colleges in Indiana.•
__________
Westerhaus-Renfrow is a visiting lecturer at the Kelley School of Business at IUPUI, president of Higher Ed Consultants LLC, and a former vice president of diversity and inclusion at the NCAA. Send comments on this column to [email protected].
Please enable JavaScript to view this content.