The Indianapolis manufacturing operations of Rolls-Royce Corp. will provide cutting-edge engines for the latest generation of helicopter drones to be used by the U.S. Navy.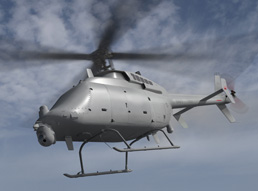 The Fire Scout MQ-8C will be powered by Rolls-Royce's M250-C47E engine. (Image: Northrop Grumman)
Virginia-based Northrop Grumman Corp. is the primary contractor for the unmanned helicopters in the Navy's Fire Scout tactical reconnaissance program. The latest model of the Scout is the MQ-8C, and on Tuesday, Rolls unveiled the latest iteration of the aircraft's engine–the M250-C47E, the newest model in its M250 engine family.
Rolls declined to reveal the value of its contract for providing the engines. The Navy anticipates paying $3.3 billion for 202 aircraft in the MQ-8C Fire Scout program, which will be in production through the mid-2020s, according Rolls spokesman George McLaren.
The engineering, design and manufacturing of the engines will be done at Rolls' Plant 5 facility at 2355 Tibbs Ave., McLaren said. The M250 has been in production in Indianapolis since 1962.
Rolls expects to deliver the first two completed engines "any day now," McLaren said. The craft's first flight will be later this year. Rolls expects the new engine to have greater power and fuel economy than its predecessors.
 
Please enable JavaScript to view this content.