Maybe in any other setting, the attorney would have turned down the dare to sample some of the 48 pounds of bacon that had been cooked on the exhaust manifold of a race car.
But this was the carnival-like atmosphere found in the paddock areas at ChumpCar and LeMons races, where family members having a good time and overly aggressive drivers walking around in a dress and high heels with a sign that says, "I am an idiot," are not uncommon sights.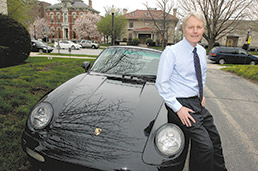 Indianapolis attorney Curt DeVoe is chief driving instructor for the Central Indiana Region of the Porsche Club of America. (Photo/ Perry Reichanadter)
So when the plate of crispy pork was passed to Curt DeVoe, partner at Plews Shadley Racher & Braun LLP, he took the dare.
"It tasted good," he said. "It's bacon."
The Indianapolis attorney was at the race not as a spectator, legal adviser or food critic, but as a driver. He is a member of the Wisconsin-based Stinky Rat Trap Racing team which competes in the ChumpCar and LeMons series.
DeVoe is among the lawyers who followed their love of auto racing into the seat behind the wheel. They are busy attorneys with active practices, but on weekends they haul their speed machines to the tracks for a few days of driving fast and jockeying for a better position.
In addition to competing in the two amateur racing series, DeVoe also exercises his driving abilities as the chief driving instructor with the Central Indiana Region of the Porsche Club of America.
William Baten, of Van Winkle Baten in Indianapolis, and John LaRue, in private practice in Muncie, both are professional-level drivers competing in different circuits of the Sports Car Club of America series.
Racing photos and memorabilia decorate their offices and occasionally they do legal work involving racing teams or series. Yet, whatever case they are working on, whatever brief or deposition is due, they always have time to stop and talk about racing.
"We all know attorneys have trouble relaxing," DeVoe said, explaining the attraction to racing. "Ultimately, what I love most about racing is it is the most relaxing thing I can do. When I'm on the track, I can't think about anything but what I'm doing right then and there. It's totally absorbing."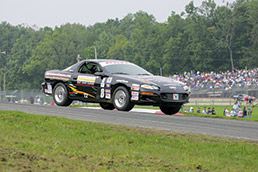 Indianapolis attorney Bill Baten made a New Year's resolution to start racing, and since has stood on the winners podium several times. (Photo submitted)
Fifteen years ago, Baten made a New Year's resolution and decided to quit dreaming and start driving. Growing up in New Jersey, he had always tuned his television to the Indianapolis 500, but it wasn't until he was 38 years old that he decided to become a race car driver.
 
These days, he competes in the touring class of the SCCA series, driving his 2002 Camaro SS. Although the vehicles' brands are well-known – BMW, Porsche, Subaru – they are by no means street cars.
Their interiors have been modified with the seats ripped out and roll cages installed, along with other safety equipment. Some drivers push the SCCA rules and tweak their engines to get a little more horsepower.
LaRue competes in open wheel racing in Formula 2000 cars in the SCCA Pro Series. These are sleek machines that have a complicated mix of aerodynamic devices to propel the car to a top speed of 160 miles per hour.
"It's not the speed," he deadpanned. "It's the rate of deceleration that causes the problem."
Racing a Formula 2000 car is as much about science as driving ability. The team of engineers analyzes the data collected in a series of black box-like recorders that measure things like speed, G-loading, suspension, temperature and pressure. Then they predict the environmental conditions, like heat and air density, that will be present during the race.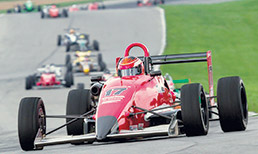 Muncie attorney John LaRue has steered his red Formula 2000 racing car to first-place finishes in the SCCA pro series. (Photo submitted)
All this is done so the aerodynamics of the car can be adjusted before the car speeds across the starting line. The races LaRue participates in – 50-mile sprints which take roughly 30 minutes – leave no time for pit stops and readjustments.
Cars that race in the ChumpCar and LeMons series are true jalopies. Not allowed to be worth more than $500, the vehicles are sometimes held together with Duct tape and always creatively attired.
The Stinky Rat car is painted to look like a block of cheese and has a long, stuffed rat hanging out the back end. In the vermin's mouth is the brake light so the critter smiles at the cars behind every time the car slows down.
 
DeVoe always loved motorsports, endlessly drawing racing cars as a youngster, but he went head over heels after taking a ride in a stockcar at the Indianapolis Motor Speedway. Then he read an article that inspired him to become a driving instructor with the Porsche Club of America.
Now, several weekends each year at Putnam Park Road Course, he and the other instructors teach drivers how to race.
Driving skill, rather than speed, is the key to winning, the attorney racers said. When to brake and how to navigate the turns are among the things drivers must know how to do to be successful.
Baten practices when he can. On race weekends, he gets a little time on the track to hone his skills before qualifying and racing. Also, he has taken lessons from pro drivers, and he has a car simulator complete with a driver's seat and steering wheel.
Their skill has gotten both Baten and LaRue to the winner's podium. Included in their successes are LaRue's winning the 1997 national championship in the Formula Ford Class Pro Series of the SCCA and Baten crossing the finish line first during the 50th anniversary of the June Sprints in Elkhart Lake, Wisc.
"It's wonderful," Baten said of winning. "That's what keeps me so involved in it and excited about it."
LaRue turned his attention to the Indianapolis 500 in 1998, when he was hired by businessman Dale Pelfrey to put together a team. With LaRue's high school classmate John Paul Jr. as the driver, Team Pelfrey led for 39 laps before finishing seventh.
The races DeVoe competes in are not so much focused on winning as on the fun of driving. Whether driving the Stinky Rat car or instructing a student, he likes seeing everyone excited and happy.
"Drivers really do have a passion for this," he said. "That's what makes us keep coming back."
Over the last five years, Baten has developed what he called a "subspecialty" in mediation and arbitration for the motorsports industry. Oftentimes, teams and owners will choose Baten as a mediator because they feel his racing experience gives him a special understanding of the issues and nuances of their problems.
Even with non-racing parties, Baten looks to motorsports for a quick relief when things turn especially tense during a mediation session. As a way to give the parties a break, he will pop in a video of his racing, made with the cameras mounted to his car.
It is not unusual that the racing attorneys have adopted their hobby to their legal practice. Many regularly attend the annual meetings of The Racing Attorney Conference (TRAC), which alternates between Indianapolis and Charlotte, N.C. The conference is organized by the Indianapolis Bar Association's Sports and Entertainment Law Section and the North Carolina Bar Association.
Conversations among motorsports attorneys sometimes turn to the difficulty of getting young drivers into the sport. LaRue holds a different perspective.
"Unfortunately, the problem is not getting in, it's getting out," he said. "There is an addiction to it, the immediacy, the demands, the adrenalin."•
Please enable JavaScript to view this content.