This month, we hit four dining establishments all just steps from the Indianapolis Cultural Trail.
First stop: South of Chicago Pizza and Beef. (619 E. Virginia Ave., 203-7110)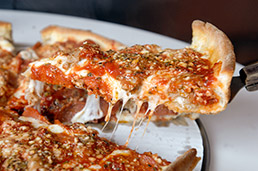 The deep dish pizza at South of Chicago features ingredients shipped from the Windy City. (IBJ Photo/ Perry Reichanadter)
Usually, I don't quote from restaurant websites, instead letting the food and atmosphere of a place speak for itself. However, I can't resist this bit of big-shouldered hubris regarding the pizza competition in Indy:
"Being from the south side of Chicago, we encountered a culture shock! The pizza here is really aweful. I stress, aweful. … I'm here to do what I can to set a new standard on how pizza should be."
So, without a spell checker but with dough made daily from scratch, fresh Italian sausage, house-made meatballs and most ingredients shipped from the Windy City, how does South of Chicago do?
Not bad, actually.
On our visit, both of the small-ish dining rooms were crowded with conventioning firefighters, giving the place an added shot of authenticity. Clearly not designed to accommodate even a small all-you-can-eat buffet ($8.99), South of Chicago has added one nonetheless, jamming it into a corner where a pair of deep dish pizzas, a steam table of baked pasta, a basic pasta bar and drinks kept a steady stream of customers on their feet.
Don't be surprised if you get your chair bumped or an elbow to your side. But, hey, we're all friends here, right?
The pizza, of course, is the primary concern. No, it's neither Chicago's own Gino's nor Giordano's, with its elephantine slices that you can lift only with the help of two friends or a forklift. True Chicago pizza-masters like chunks: chunks of meat combined with chunks of tomato.
Here, the pizzeria had about half the toppings you'd expect at the source. But don't get me wrong, these aren't delicate slices by any stretch of the imagination or waistband. Two slices is plenty for most mortals outside a 15-mile radius of Wrigley Field.
Outside the buffet, a 14" Deep Dish Pizza with two toppings runs $16.49, well within the range of pricing you'll find closer to Lake Michigan.
Pizza isn't the only way to go here, but whatever the case, arrive hungry. The limited menu of alternatives includes a monster of a Meatball Sandwich ($6.49) featuring juicy, marinara-soaked orbs slathered in cheese ($1 upcharge) melted into the delicious bun. If only I had an entire family with me to share it. Fries on the side were perfectly acceptable.
The Italian Beef & Sausage Combo ($7.49) isn't for the lighthearted (or heart-conscious), either, with enough beef to quickly collapse the roll in which it's wrapped.
There's Eli's Cheesecake ($1.99) and Tiramisu ($2.99) and ice cream dessert options, but who are they kidding? We had enough trouble getting back to the office as it is.•
__________
First in a month-long series of Indianapolis Cultural Trail restaurant reviews.
Please enable JavaScript to view this content.