Three developers are competing to build a mixed-use project likely to include a parking garage on a surface lot adjacent to the historic Athenaeum building.
The Athenaeum Foundation, the not-for-profit that owns the building and the 90-space lot to the east, received three proposals by a May 10 deadline. Foundation directors sought bids after interest in the property from a lone developer, Insight Development Corp., prompted them to instead launch a bidding war.
"It's a pretty open-ended request," foundation President Cassie Stockamp said. "That's where the creativity from the developer comes forward, and we'll see who comes up with the best offer."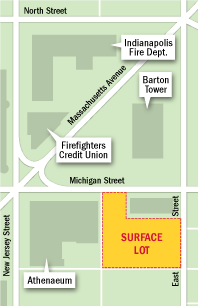 The foundation prefers to maintain ownership of the nearly one-acre parcel, which fronts Michigan and East streets, and enter into a land-lease arrangement to help fund improvements to the aging Athenaeum.
Insight's team, including Ratio Architects, A2SO4, Shiel Sexton Co. Inc. and Newpoint Parking, is proposing a garage to help alleviate parking issues related to its nearby Millikan on Mass project.
The $23 million development across from the Athenaeum is being built in two phases on ground surrounding the Barton Tower Apartments. But it lacks on-site parking for the 144 affordable and market-rate apartments and retail/restaurant space planned as part of the project.
Work on the second phase won't begin until the parking situation is resolved, said Bruce Baird, president of Insight, the development arm of the Indianapolis Housing Agency. He declined to provide more specifics about its proposal.
"I really don't want to say a lot about it, because I have competitors now," he said. "We're fine with that."
The other two teams submitting proposals are:
• Cornerstone Cos. Inc., Keystone Construction Corp., Schmidt & Associates, Denison Parking and Walker Parking Consultants.
• The Hagerman Group, Ratio Architects, The Re-Development Group and Denison Parking.
Indianapolis-based Cornerstone boasts a portfolio of nearly 30 properties throughout Indiana totaling 1.2 million square feet.
Its partner on the Athenaeum proposal, locally based Keystone, would serve as construction manager.
Tag Birge, vice president of development for Cornerstone, said in an email that "we believe a parking garage would be an excellent amenity for that area of Mass Ave."
Calls to the Fishers office of Fort Wayne-based Hagerman Group were not returned.
For the Athenaeum, a deal involving its parking lot couldn't come at a better time for the cash-strapped foundation.
It's identified $6 million in upgrades for the 94,000-square-foot structure built in 1894 to serve German immigrants, Stockamp said. The Athenaeum houses the Rathskeller restaurant, a YMCA and other tenants.
A few of the more pressing needs include tuck-pointing and an elevator installed to serve the second-floor Athenaeum Theatre, she said.
"We're asking ourselves, too, with the development of Mass Ave, 'What we can do to serve that?'" she said.

Stockamp
She declined to reveal financial details of the offers or how much the projects would cost to build.
In addition to Milliken on Mass, a $43 million, five-story project is proposed on 1.45 acres bordered by Massachusetts Avenue, North New Jersey Street and East North Street within shouting distance of the Athenaeum.
Plans calls for up to 235 market-rate apartments, 40,000 square feet of first-floor retail space, and almost 400 parking spaces on two levels, with some underground.
The city plans to contribute $3 million from a downtown tax-increment-financing district and the prime real estate—currently occupied by the Indianapolis Fire Department—as a subsidy for the project.
The city must first move the fire department's headquarters, Fire Station No. 7 and the Firefighters Credit Union before construction can begin.
Locating suitable property has proven to be a challenge, said Deron Kintner, deputy mayor of economic development.
"There's a lot of moving pieces to this," he said, "but we're progressing."
Directors of the Athenaeum Foundation, meanwhile, are expected to begin reviewing proposals within the next week. A time frame on a decision has not been set, Stockamp said.•
Please enable JavaScript to view this content.